Special Events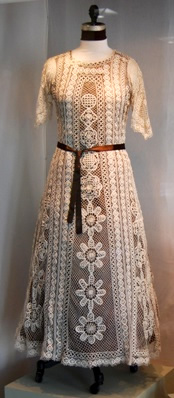 Margaret Justin's custom made cluny lace dress ca. 1920 (pictured). Nellie Kedzie's elegant Battenbury cotton tape lace gown purchased in Vienna in 1892. President James A. McCain's academic regalia from 1951. Silk gowns ca. 1915 and pattern-making equipment from early classes in domestic sciences. They are among the items from the Historic Costume and Textile Museum presented in Justin Hall's first and second floor display cases. The displays were developed by curator Marla Day.
Friday, Feb. 14: Tea with the Dean
Virginia Moxley and the College will celebrate the kickoff of the university's sesquicentennial celebration with tea and pastry made from historic K-State recipes. Tea will be served in Hoffman Lounge in Justin Hall from 9 to 10:30 a.m. and from 2 to 3:30 p.m.
Wednesday, March 6: "Women's Education on the Frontier"
Dean Virginia Moxley will present the 150th celebration Brown Bag Event at noon at the Beach Museum of Art, UMB Theater. Dr. Moxley is a 5th generation Kansan and has been involved in higher education in the state for more than 35 years.
Wednesday, March 13: "History of Student Life/Student Unrest"
Associate Dean Bill Meredith and Pat Bosco, vice president for student life, at noon in the K-State Student Union, Flint Hills Room.
Thursday, April 4: "Beef, Biscuits and Butterscotch Pie: 150 Years of K-State Food Traditions"
Jane P. Marshall will lead a workshop that explores the university's 150-year-old food heritage and how it influenced the city, the state and communities around the globe. Through recipes as diverse as Roast Raccoon to the famous K-State Crown bread, through people from Clementine Paddleford to botanist Paul Mangelsdorf, and through stories about Anderson Hall dining rooms and ice cream parlors, she will ask you to join the conversation to celebrate K-State's sesquicentennial and your own culinary past. The free class sponsored by UFM Community Learning Center is from 7:30 to 9 p.m. at the Manhattan Public Library. To enroll visit www.tryufm.org or call 785-539-8763.
Saturday, April 20: Open House
The Human Ecology History Game will be among the exhibits and activities at the University's annual Open House. Fun at Justin Hall begins at 9 a.m.
Wednesday, May 1: "From Women's Course to Human Ecology"
Carol Kellett will talk about the history of the college at noon in the Flint Hills Room, K-State Student Union as part of the 150th celebration Brown Bag Event series. The professor is the author of "Legacy of Leadership" and is completing a comprehensive history of the college.
Wednesday, Aug. 21: "Teatime to Tailgates: 150 Years at the K-State Table"
Jane P. Marshall will tell stories from her history/recipe book at noon in the Flint Hills Room at the K-State Student Union as part of the 150th celebration Brown Bag Events. She is communications coordinator for the college and teaches Food Writing in the Department of Hospitality Management.