Teatime to Tailgates
Food Heritage/Recipe Book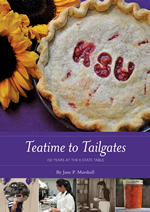 Available Now - Order Your Copy Today!
Teatime to Tailgates: 150 Years at the K-State Table, which combines history, recipes and food memories connected with K-State, is available now for $24.95 and may be ordered using this form (credit cards accepted, $5 S/H) or purchased at 119 Justin Hall (checks only). Proceeds support Human Ecology undergraduate student research and international study opportunities.
Remembering K-State's Food Connections
To celebrate K-State's sesquicentennial, the College of Human Ecology has published Teatime to Tailgates: 150 Years at the K-State Table, a book about the university's rich food heritage featuring stories and recipes from 1863 to 2013.
Courtesy: K-State Libraries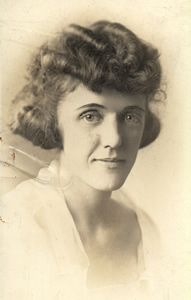 Clementine Paddleford, a 1921 K-State graduate, was a popular food editor at the New York Herald Tribune.
The State Library of Kansas has honored the book along with 14 other "quality titles with wide public appeal, either written by Kansans or about a Kansas-related topic." Although it is a college project, the book encompasses the entire university from Call Hall's ice cream parlor to Van Zile's dining room, from Practical Cookery's recipe for Lemon Icebox Cookies to the union's Crown rolls.
"The most important part will be the people – faculty, staff and students who have collected food memories and built our food legacy," said Jane P. Marshall, who researched and wrote the book. Marshall, a food journalist and culinary historian, taught food writing in the Department of Hospitality Management and was communications coordinator for the College of Human Ecology.
Some of the first students 150 years ago learned the science of agriculture and of cookery. They learned, in other words, to grow better wheat and bake better bread as they strengthened their families and their communities.
The tradition continues. Academic programs flourish around what goes on tables around the world. Campus society celebrates, meets and romances with food. Food is a part of sports events, of finals week, of Open House weekends, of friendships new and old, of the Freshman 15, of graduation revelries.
The book includes stories from alumni, staff and faculty. It also explores how research and education at Kansas State University has touched tables around the world, feeding the hungry and inspiring epicurean and home cook alike in the kitchen.