Applied Human Sciences Ambassadors
The mission of the AHS Ambassador program is to promote the Department of Applied Human Sciences to alumni, friends, prospective students (and their families), and to engage current K-State students. Ambassadors represent the Department of Applied Human Sciences during School, College, and University-wide recruitment events on and off-campus and provide a voice to current students enrolled in the School.
We know this school year looks a little different than we were expecting, but the Applied Human Sciences department is committed to making sure that regardless of what is going on in the world our students will have an enriching, educational, and joyful college experience. Our ambassadors are students just like you with an understanding of the exciting and sometimes nerve-wracking nature of the college experience and are here to help you navigate your own. If you would like to contact an ambassador for guidance about the department of AHS, send an email (listed with descriptions below) and we will be happy to set up a zoom meeting with you!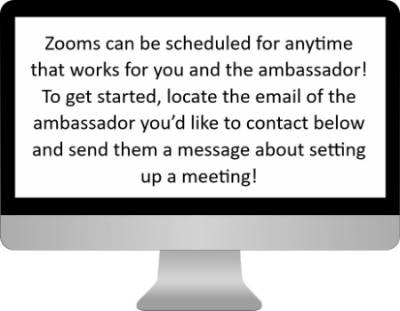 Meet the 2020-2021 AHS Ambassadors!
| | |
| --- | --- |
| | Ashley Eckels, Sophomore in Human Development and Family Science, plans to use her undergraduate degree in HDFS as a firm foundation for her future pursuit of a master's degree in Couple and Family Therapy. She found that AHS was welcoming and passionate about helping others, a passion that she shared. |
| | Chesney Moore, Junior in Human Development and Family Science, chose HDFS because the major fit her love of working with people and ultimately made her feel the most at home when choosing her collegiate academic path. She hopes to use her time as an ambassador to make that reality possible for others as well. |
| | Ellie Wells, Junior in Human Development and Family Science with a minor in Conflict Resolution and Children in Group Settings, says that her advisors and professors were extremely encouraging and accommodating as she navigated her educational path, and she hopes to attend graduate school to get her master's in College Student Development and Student Affairs to offer the same positive impact to future students. |
| | Emily Meeks, Senior in Human Development and Family Science with a minor in Leadership Studies, began her time at K-State in the open option program knowing that she wanted to find a major that involved health, wellness, and compassion for others. After meeting with an advisor for the HDFS program she knew she had found what she was looking for. |
| | Jayme Hay, Senior in Human Development and Family Science with a minor in Conflict Analysis and Trauma Studies, took a tour of K-State during her senior year of high school and fell in love with AHS due to the endless options available for students who want to find success in helping others. After her undergraduate career, Jayme hopes to pursue a master's degree in Couple and Family Therapy. |
| | Kate Willnauer, Junior in Communication Sciences and Disorders with a secondary degree in Gerontology, is proud to be a part of the department because every major makes an impact on the identification, help, and comfort of people in need. |
| | Katie Zimmerman, Junior in Communication Sciences and Disorders with minors in Spanish and Human Development and Family Science, always wanted to pursue a career in health, and found that AHS met this requirement while also displaying passion and enthusiasm about the work that can be done through the department and its students. |
| | Lily Kennedy, Senior in Communication Sciences and Disorders, chose to pursue a program within AHS because all of the academic programs focus on helping others and improving the lives of those around us. She is proud that while AHS has many differing paths to success, all of the options have one common goal: working to enhance the overall well-being of people. |
| | Madison Jensen, Senior in Human Development and Family Science (Pre-OT) with a secondary major in Gerontology, as well as a minor in Conflict Analysis and Trauma Studies, found her way to the department through her desire to not only improve people's physical wellness, but to improve their relational, emotional, and mental wellness as well. She believes all of the academic programs housed within AHS are capable of improving and enriching the lives of all people. |
| | Megan Strecker, Senior in Communication Sciences and Disorders with a minor in Human Development and Family Science, chose her degree because of her huge desire to help the people she works with. She believes that AHS provides anyone who pursues a degree an opportunity to better society. |