CSD Courses and Clinic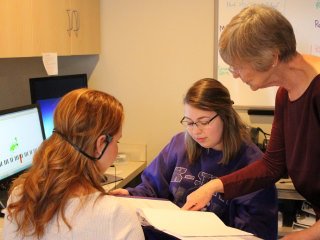 The graduate coursework offered at Kansas State University provides comprehensive preparation for the clinical practice of speech-language pathology. Graduate students also complete a Research Experience & Foundations credit. See K-State Graduate Catalog for course descriptions and semesters offered:
Fall Semester
CSD 741 Fluency Disorders (3)
CSD 745 Neuromotor Speech Disorders (3)
CSD 750 Voice Disorder (3)
CSD 844 Dysphagia (3)
Spring Semester
CSD 742 Language Assessment and Intervention II (3)
CSD 748 Cleft Palate (1)
CSD 780 Instrumental Measurement for Clinical Application (2)
CSD 841 Acquired Language & Cognitive Disorders (4)
CSD 851 Professional Issues in Speech-Language Pathology (2)
Summer Semester
CSD 725 Augmentative & Alternative Communication (2)
CSD 743 Communication Impairments in Autism Spectrum Disorders (2)
CSD 744 Aural Rehabilitation (2)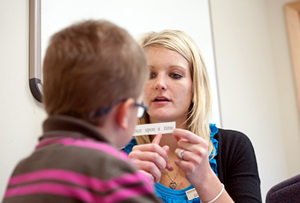 Students complete four semesters of practicum at the K-State Speech and Hearing Center under the direct supervision of a faculty member. Toward the end of graduate training, students complete two externships, including one in a child/educational site and one in an adult/medical site. The placements are typically a minimum of 12 weeks in length and supervised by a licensed speech-language pathologist.