Wild About Family and Consumer Sciences
Career exploration in Family and Consumer Sciences Education for high school students; Professional development for FCS teachers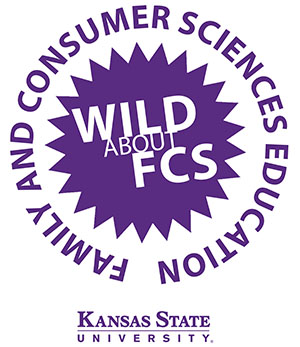 FCS teachers—Kansas State University's Wild About FCS! is beginning with a special professional development opportunity to assist you as you navigate this changing work environment. This event offers timely information geared to strengthen your teaching effectiveness with relevant discussions, focused on developing a responsive culture within your FCS classes, no matter F2F or virtual.
The event will take place on Thursday, October 8th 4 – 5:30 PM via zoom.
4:00 – Welcome – Dr. Sonya Lutter, Head, Department of Applied Human Sciences, College of Health and Human Sciences
4:05 – Culture Deconstructed with Dr. Debra Bolton, Director, Intercultural Learning and Student Success, Kansas State University
4:35 – Virtual Shift: Work-Based Learning & Internships with Dr. Janine Duncan, Assistant Professor, Family and Consumer Sciences, College of Education
4:50 – Enhancing Student Engagement in Online Learning with Cyndi Kuhn, Instructor, Education Technology Integration Coordinator, College of Education
5:15 – Q & A/Discussion
5:25 – Concluding comments with Dr. F. Todd Goodson, Head, Department of Curriculum and Instruction, College of Education
5:30 – adjourn
The event is free; however, registration is required in order to send you a secure link. Register HERE!
Continuing education credit will be offered if desired.
For more information contact:
Janine Duncan, PhD, FCS Teacher Educator
duncanjm@k-state.edu | (785) 532-7685