Welcome!
Striving for Diversity, Inclusion, and Social Justice
Faculty and staff in the Department of Applied Human Sciences are wholeheartedly committed to eliminating systemic racism.
Don't understand what systemic racism is? Watch this video.
Read stories of hatred and biases experienced by our very own K-Staters at #BlackatKState on what is happening and why it needs to stop.
The Department of Applied Human Sciences incorporates and welcomes diversity and inclusion in the courses we teach and the content we include in those courses. We respect diverse thinking and different ways of knowing through our research. In our engagement activities through Extension, outreach, projects, and clinics, we design and conduct ethically valid programs that matter to those impacted by injustice and implicit bias. As helping professionals, we are on the forefront of seeing systemic racism and being in a place to make a difference in the lives of the students, alumni, families, and communities we serve.
We are committed to K-State's Principles of Community and confront those who do not abide by the principles.
We affirm the inherent dignity and value of every person and strive to maintain an atmosphere of justice based on respect for each other.
We affirm the value of human diversity and inclusion for community. We stand united against all forms of discrimination.
We affirm the right of each person to freely express thoughts and opinions in a spirit of civility and decency. We believe that diversity of views enriches our learning environment, and we promote open expression within a climate of courtesy, sensitivity, and mutual respect. For more information, please see the University's Statement on Free Speech and Expression and the University's Statement on Academic Freedom.
We affirm the value of honesty and integrity, and act accordingly in all professional endeavors and expect the same from our colleagues.
We acknowledge that we are a part of multiple communities, and we have a responsibility to be engaged in a positive way with our civic partners.
We recognize our individual responsibilities to the University community and to the principles that sustain it. We each strive to contribute to a positive spirit that affirms learning and growth for all members of the community.
See messaging from our Chief Diversity & Inclusion Officer for more university-wide initiatives that we support.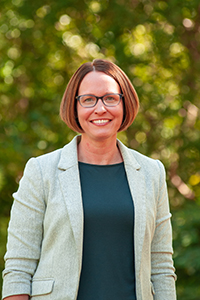 Mindy Markham
Interim Department Head
mmarkham@k-state.edu
Our Response to Social Justice and BLM
This Fall a group of our faculty and staff have joined efforts with our campus colleagues to learn about racism by reading and discussing The New York Times bestseller How to Be an Antiracist by Ibram Kendi. Together we are taking a journey toward inclusivity and anti-racist behavior. If you would like to talk about the book with one of our department's book club members, please reach out to them!

Book club members are as follows: Joyce Baptist, Gayle Doll, Bronwyn Fees, Alison Hayward, Shanna Jager, Elaine Johannes, Sonya Lutter, Mindy Markham, Kari Morgan, Katie Thompson-Laswell, and Michelle Toews.

Faculty member, Kari Morgan, joined the KAWSE book club, reading An Inclusive Academy: Achieving Diversity and Excellence by Abigail J. Stewart and Virginia Valian.
Faculty (Elaine Johannes and Kari Morgan), graduate students (Alexis Burns and Ingrid Lindal), and students (Lexi Cannizzo and Emily Meeks) are Wildcat Dialogue

Leaders who have been trained on building connections with new K-State students and engaging in meaningful dialogue.
We have multiple members of our faculty and staff serving as SafeZone Allies in our Department and are ready to serve as a safe place for discussion for all K-State students and employees.

These members include: Elaine Johannes, Taylor Williams, Bradford Wiles, and Kim Wagner