Anthony J. Ferraro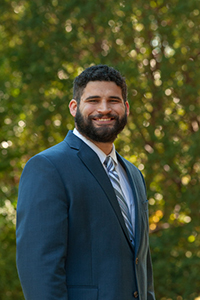 Assistant Professor
Contact Information
312 Justin Hall
785-532-5510
aferraro@k-state.edu
Education
Ph.D. in Human Development and Family Science, Florida State University (2017)
Graduate Certificate in Measurement & Statistics, Florida State University (2017)
B.S. in Legal Studies, University of Central Florida (2012)
Credentials and/or Certifications
Certified Family Life Educator (CFLE)
Area(s) of Specialization
Divorce Education
Coparenting
Family Policy
Stress & Coping
Identity Development
Military Families
Emerging Adulthood
Intergenerational Transmission
Measurement Development & Assessment
Courses Taught
HDFS 375 Research Methods in HDFS
HDFS 550 Families Theory & Science
FSHS 871 Program Development & Administration
FSHS 890 Application of Research & Statistics
FSHS 893 Program Evaluation in Human Services
FSHS 906 Statistical Methods in FSHS II
FSHS 950 Theory Construction
Research, Scholarship, and Creative Endeavors
Dr. Ferraro's work focuses on coparenting after divorce but his research program more broadly focuses on familial relationships during periods of transition, both structural (divorce, remarriage, reintegration, etc.) and developmental (launching, placement in long term care, etc.). Dr. Ferraro has been the principal or co-principal investigator on numerous primary data collections over the course of his career. He currently serves as one of the directors for the national Divorce Education Assessment Collaborative, the President-Elect for the Family Policy section of the National Council on Family Relations, and leads the Families in Transition research lab at Kansas State. He was recognized by the Advancing Family Science section of the National Council on Family Relations with their Emerging Mentor/Teacher Award for 2020. Recent publications include:
Petren, R.E., Ferraro, A.J., Zimmermann, M.L., Anthony, M., & Pasley, K. (in press). A cross-lagged panel model of coparental interaction and father involvement shortly after divorce. Family Relations.
Ferraro, A.J., Oehme, K., Waldick, I.E., & Stern, N. (2020). Improving court-mandated divorce education by recognizing the effects of parents' childhood trauma. PACE Law Review, 40(1), 273-308. Retrieved from https://digitalcommons.pace.edu/plr/vol40/iss1/6/
Ferraro, A.J., Pippert, H.D., & Duncan, J.M. (2020). Development and validation of a short form for the Multidimensional Co-Parenting Scale for Dissolved Relationships (MCS-DR). Journal of Divorce & Remarriage. Advance online publication. https://doi.org/10.1080/10502556.2020.1768490
Ferraro, A. J., Petren, R. E., & Pasley, K. (2019). Patterns of parental interactions after divorce and individual well-being. Journal of Child & Family Studies, 28(5), 1413-1424. doi:10.1007/s10826-019-01373-0
Personal Information
Anthony and his wife Melissa are proud parents of two boys: Phillip and Merritt. They love calling Manhattan home, and whether watching the hyenas at Sunset Zoo, taking in the latest exhibit at Flint Hills Discovery Center, hiking Konza Prairie, or going for a dip at Blue Earth Plaza they always find something fun and exciting to do in the Little Apple.