Bronwyn S. Fees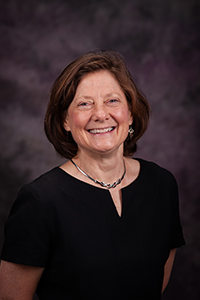 Associate Dean for Academic Affairs
Contact Information
119D Justin Hall
(785) 532-1421
fees@k-state.edu
Education
Ph.D. Human Development and Family Studies/Child Development, 1998, Iowa State University
Dissertation: Parent and educators' beliefs regarding their influence on children's competencies
MS Education, 1986, University of Nebraska at Kearney
BS Education/Family and Consumer Sciences, 1984, University of Nebraska at Kearney
Credentials and/or Certifications
State of Nebraska Initial Teaching Certificate #2010006764 (expires 7/20/15)
Area(s) of Specialization
Child Development
Early Childhood Education
Courses Taught
FSHS 301 Early Childhood
FSHS 450 Early Childhood Environments
FSHS 540 Curriculum for Cognitive and Language Development
FSHS 740 Play
FSHS 810 Child Development
FSHS 820 Theories of Human Development
FSHS 830 Advanced Program Development
Professional Biography
Bronwyn Fees, Ph.D., is Associate Dean for Academic Affairs and Professor in the Department of Applied Human Sciences in Early Childhood Education and Life-Span Human Development. Fees leads the college the strategic planning process, focuses on graduate education, distance education and faculty development and awards. Her research focuses on physical activity of young children within programs, early care and education programs, affordances of the physical environment for children with autism and international perspectives on early education. Her work has been published internationally and nationally, including a collaborative study conducted in the child development lab school work cited in the Institutes of Health recent publication, "Childhood Obesity." She has presented nationally and internationally and led international study tours to China, Tanzania and Hungary. She has worked with graduate and undergraduate students to present their experiences at local, state, national and international conferences. She is membership chair for the USA affiliate of the World Organization for Preschool Education (OMEP) a member of Kappa Omicron Nu, Kappa Delta Pi, ACEI, NAEYC, SRCD and AERA. She is a reviewer for journals in early education, nutrition and physical activity, and family studies, and a grant reviewer for the competitive federal grants. Prior to joining the faculty at KSU in 1998, Fees taught at the University of Nebraska at Kearney and Huron University and served as HU's director for institutional assessment.
Personal Information
When not on campus, Fees enjoys running and hiking with her family and two terriers. As a native Kansan, a former 4-H member for many years and strong proponent of the land-grant system, she endorses mission of Kansas State University and loves the color purple.
Most Recent Publications
Parent adoption and implementation of obesity prevention practices through building children's asking skills at family child care homes (Journal Article), in Evaluation and Program Planning (2020).
Reflecting on international educative experiences: Developing cultural competence in preservice early childhood educators (Journal Article), in Journal of Early Childhood Teacher Education (2018).
Preschool children's biophilia and attitudes toward nature: The effect of personal experiences (Journal Article), in The International Journal of Early Childhood Environmental Education (2017).
Preschool Daily Patterns of Physical Activity Driven by Location and Social Context. (Journal Article), in The Journal of school health (2017).
The impact of participation in creative drama on empathy levels in emerging adulthood: A pilot study (Journal Article), in Drama Therapy Review (2016).
See the Vita for a complete list of publications.
Most Recent Presentations
, at the Virtually Together: 2020 UPCEA Regional Conference Series (2016).
Parental involvement, peer relationships, and adult mentors impact on adolescents character development, at the Research & Evaluation Report at NAE4-HA National Meeting (2016).
The impact of parental involvement, peer relationships, and adult mentors on the character development of adolescences, at the Society for Research in Child Development annual meeting (2016).
The impact of Parental Involvement, Peer Relationships, and Adult Mentors on the Character Development of Adolescents, at the Promoting Character Development among Diverse Children and Adolescence: The Role of Family, Schools and Out-of-School-Time Youth Development Programs (2016).
Early Care and Education - Education Abroad Study Tour 2018, at the quarterly meeting (2016).
See the Vita for a complete list of presentations.
Most Recent Awards
ACE Fellow, American Council on Education (2020)
Women of Distinction , Kansas State University (2015)
HERS Summer Institute, HERS (2015)
See the Vita for a complete list of awards and honors.
Most Recent Grants
Infant-Toddler Specialist Network: KCCTO-KITS Partnership; Kansas Child Care Training Opportunities, Inc. (2019)
Early Childhood Workforce Development Grant; Kansas Child Care Training Opportunities, Inc (2016)
KCCTO - Statewide Infant - Toddler Specialist Network; Kansas Department for Children and Families (2016)
Kansas Child Care Training Opportunities; Kansas Child Care Training Opportunities, Inc (2014)
Playing naturally: an exploratory study of the impact of a specially selected outdoor play space on arousal, attention and task completion of children with Autism Spectrum Disorders; Kansas State University (2013)