Health and Human Sciences Virtual Student Meet-up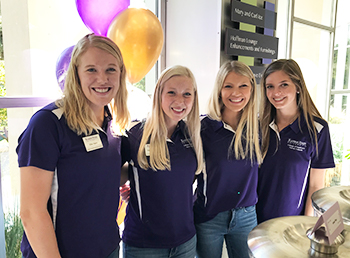 Join a current Health and Human Sciences student ambassador to talk with them about K-State, their major, and college experience. You will get to hear more about what students truly think about K-State, without the listening ear of our staff. This is a great opportunity for you to learn more about the major you are interested in, what you would be studying in classes, as well as other activities students are involved in. This experience is designed for you to visit individually with one or two of our current students. You will get to ask any questions you have about majors, K-State, as well as college in general.
The chats are scheduled for 1 hour and will be conducted virtually through zoom. Upon signing up, you will be sent your scheduled date and time along with a zoom link for the meeting.
Fall 2020 semester dates available:
September 14th - November 13th
If you have any questions, please e-mail Jessica Ayres or call: 785-532-5500
To schedule your virtual chat, please fill out the registration form below. Please sign up 2 weeks prior to when you would like to meet with an ambassador.