Wild About Family and Consumer Sciences
Career exploration in Family and Consumer Sciences Education for high school students; Professional development for FCS teachers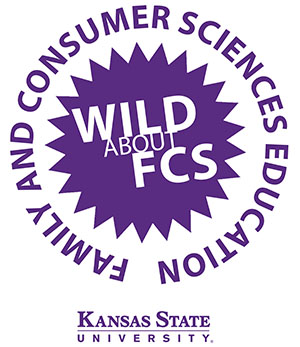 Plan now to attend "Wild about FCS Education" on October 2, 2020 to enhance what you know about FCS Education at Kansas State University. The day will include professional development for the FCS teacher and knowledge they can immediately use in their classrooms. In addition, continuing education credit will be offered if desired. We are also offering a schedule for students, who are interested in Family and Consumers Sciences to learn more about the university, FCS Education as a career choice in the College of Health and Human Sciences and College of Education. The registration cost includes the opportunity to bring up to 2 students at no charge. Additional students, over the 2 included in your registration are welcome, but there will be an additional charge as indicated on the registration form.
CAMPUS PARKING
A permit is required to park on the Kansas State University campus. Visitor permits for the K-State Parking Garage can be purchased from K-State Parking Services for $5 per day. Campus parking is limited and we recommend you purchase a visitor permit in advance to ensure availability at the conference.
Instructions to purchase a conference parking permit: Visit the K-State Parking Services website to purchase a parking permit for the day. Once you are at the KSU Parking Services webpage, at the upper right hand side of the page, you will click on LOGIN if you already have an account, or SIGNUP to create an account. The permit you buy at this website will need to be printed out and displayed on your dashboard to park on campus, or printed out and scanned to enter and exit the parking garage.
If you do not purchase a permit prior to the conference, regular garage rates will apply, if parking stalls are available. Current rate is $1.50 per hour or $12 per day. Visitor permits for outdoor parking lots may be obtained for $5 per day from the Information Kiosk adjacent to the parking garage on 17th Street and Anderson Avenue. Kiosk hours are 7:30 a.m.-4:30 p.m. Monday through Friday. After 5 p.m. and on weekends, a permit is not needed for outdoor lots, except university housing.
For more information contact:
Janine Duncan, PhD, FCS Teacher Educator
duncanjm@k-state.edu | (785) 532-7685