Missy Schrader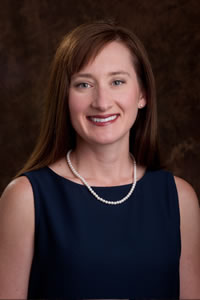 Instructor
Contact Information
105 Kramer Dining Center
785-532-6469
schrader@k-state.edu
Education
M.S. in Food Service, Hospitality Management and Dietetics Administration, Kansas
Coordinated Program in Dietetics Graduate, Kansas State University (December 2000)
B.S. in Food Science and Industry, Kansas State University (May 1996)
Areas of Specialization
Courses Taught
HMD 342 Quantity Food Production Management (Distance and Campus)
Professional Biography
Melissa started her professional career as a R&D food scientist in Cargill's red meat sector. After leaving Cargill, she completed a M.S. degree and achieved the R.D. credential.
Melissa has been employed by K-State Housing and Dining Services for eight years and is responsible for instructing the campus and distance food production management course. She also leads numerous projects for Dining, including providing web-based nutrition information to students and LEED certification for a retail dining operation.
Melissa is a member of ADA, a past KDA membership chair, and belongs to several practice groups. She is actively involved in NACUFS and is currently serving her second term as Midwest Region information officer. She has worked with the ACS mobile classroom, holds a U.S. patent, has been an item writer for the national registration exam for dietitians, and has completed culinary enhancement training. Melissa coordinated K-State's first student culinary enhancement workshop in February 2005.
In 2008, Melissa was the recipient of NACUFS Midwest Region President's Award and KDA Recognized Young Dietitian of the Year Award. Also, she is the 2011 recipient of the Kansas Dietetic Association Outstanding Dietetic Educator for the Didactic Program in Dietetics.