Master of Science in Athletic Training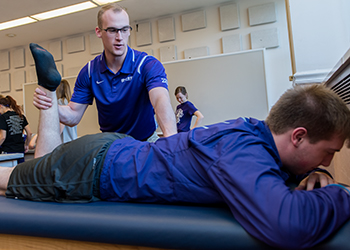 Kansas State University athletic training program leads to a Master of Science in Athletic Training degree (MSAT). Students can enter the MSAT two ways: (1) through the Five-Year Master's degree plan or (2) through the post-baccalaureate degree plan. It is a competitive admissions process and 25 students will be accepted into the program each year.
The MSAT professional degree program is a 24 month program, continuous through 6-semesters. The first four semesters or 15 months will be delivered mostly from the Manhattan campus with final 2 semesters being an immersive clinical experience.
The MSAT is a program within the College of Health and Human Sciences, and the Department of Food, Nutrition, Dietetics and Health. Following a decision from the National Athletic Trainers' Association's Athletic Training Strategic Alliance, a master's degree will be required to become eligible for certification as an Athletic Trainer starting in 2022.
Are you an undergraduate interested in pursuing Athletic Training?
What is an Athletic Trainer?
Athletic trainers (ATs) are highly qualified, multi-skilled health care professionals who render service or treatment, under the direction of or in collaboration with a physician, in accordance with their education, training and the state's statutes, rules and regulations. As a part of the health care team, services provided by athletic trainers include primary care, injury and illness prevention, wellness promotion and education, emergent care, examination and clinical diagnosis, therapeutic intervention and rehabilitation of injuries and medical conditions.