Staff and Partners
K-State Project Coordinators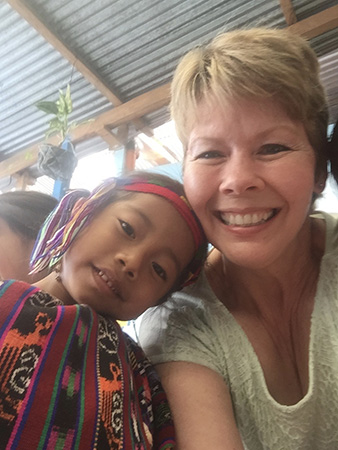 Linda Yarrow, PhD, RDN, CDE, Project Director Linda Yarrow, Instructor, teaches many on-campus and distance courses in nutrition. As a Registered Dietitian Nutritionist and Certified Diabetes Educator, her expertise strongly supports the nutrition and health focus of this program. Dr. Yarrow is also a currently practicing RDN at Clay County Medical Center, which ensures FNDH students receive very relevant teaching in medical nutrition therapy in regards to disease management. Dr. Yarrow is the recipient of the SIDLIT Innovation in Teaching Award, a Shirley Davis Award for Excellence in Blended Learning Finalist, and recipient of the Academy of Nutrition & Dietetics Innovator in Practice and Education Award.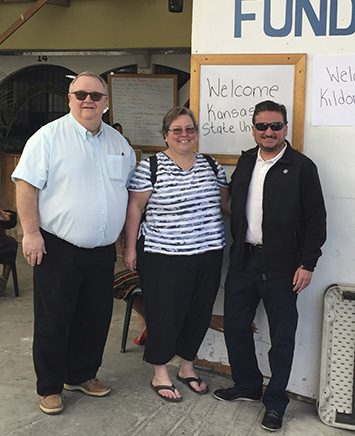 Dr. Edgar Chambers IV, Project ConsultantDr. Chambers (furthest left) is a University Distinguished Professor of Sensory Analysis and Consumer Behavior and is an expert on international experiences for students. He has planned or co-planned multiple international experiences every year for students, both in groups or individually. He directs the Center for Sensory Analysis and Consumer Behavior and works with industry, governments, and universities around the world to evaluate and improve products and services. He is a fellow of ASTM International, a former President of the Society of Sensory Professionals, recipient of the David Peryam Award, the highest international award in his field, and one of five US representatives to the International Standards Committee on Sensory and Consumer Evaluation.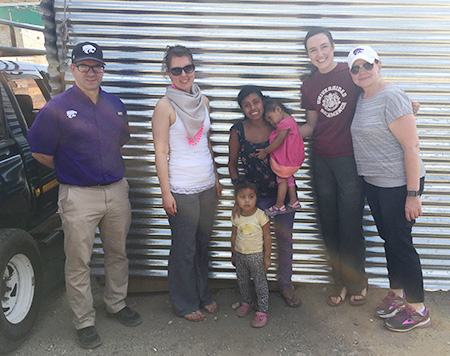 Dr. Mark Haub, Project Consultant Dr. Haub (furthest left) is Professor and Head of the Department of FNDH. He has taught many courses related to nutrition and health behavior and has conducted numerous clinical and health behavior trials funded by various government, industry, and non-profits. He is a member of many professional organizations and represents K-State on several USDA committees.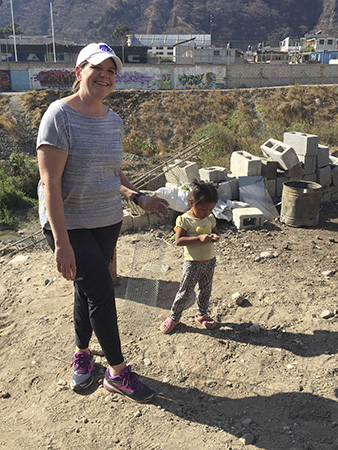 Dr. Shawna Jordan Dr. Jordan is Assistant Dean, College of Health and Human Sciences, and Assistant Professor in FNDH. She has traveled abroad extensively setting up educational opportunities for students in the College of Health and Human Sciences. Her background is as a certified athletic trainer with work experience in hospitals, clinics and collegiate athletics. The international service learning opportunities are a valuable experience in which she looks forward to sharing with the students. She will serve as one of the co-instructors for the International Experience course for the Guatemalan project.
Office of International Programs (OIP)The Office of International Programs plays a prominent role in the internationalization of faculty, departments and colleges, student programs, faculty/staff development, curriculum development, and area studies at K-State. The OIP works with the International Activities Council and the colleges to identify avenues for international growth and development within the university and community. The units within the Office of International Programs provide primary support for both incoming international students, faculty and researchers and for students, faculty and researchers going abroad.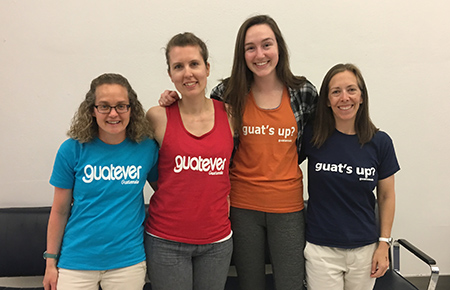 Other faculty and participants Other faculty in the department and OIP are essential to the success of this project. Many have international experience, speak Spanish and/or have lived and worked internationally. They are exceptional teachers, use innovative teaching methods, and have a real desire to see this project succeed. Our faculty are fully engaged with the concept that sometime in the not too distant future, every student in our department will have an international experience. These faculty will teach the classes, read journals students keep of their experiences, evaluate student international projects, and support student research and international engagement.
Program Manager The Guatemala program will have a Program Manager who is responsible for the day-to-day management of this residential education abroad program. The Program Manager is responsible for the oversight and for providing support in terms of the health and welfare of the K-State students living, learning, and serving in the Lake Atitlan region of Guatemala. The Program Manager performs a range of duties to support and enhance the program and your experiences. The Program Manager will maintain a calendar of activities including student arrivals/departures, program activities, housing placements and cultural activities. Additionally, the Program Manager will advise and assist students on a broad range of personal, social, and academic issues.
Meet Our Partners
Mayan Families As an accredited 501©(3) non-governmental organization, Mayan Families' mission is to facilitate sustainable development programs in impoverished communities throughout the Lake Atitlan region of rural Guatemala. Their objective is to stimulate long-term progress through school sponsorships, health initiatives, vocational training and microfinance, while providing emergency aid to those in critical need. Mayan Families has the following programs in the Lake Atitlan region:
Preschool Nutrition Centers: they have six centers in rural communities. Each preschool student receives a nutritious snack and meal each day as well as a daily multi-vitamin. Mayan Families staff monitors the growth of each student to ensure they are achieving adequate height and weight for their age. The centers have increased the pass rate of first grade by 50%. The centers provide bilingual education for students as well as tutoring.
Reproductive Health and Family Planning: Unwanted pregnancies and sexually transmitted diseases are among the greatest health risks and barriers to education for indigenous Guatemalan adolescent girls. One of the goals of Mayan Families is to advance sexual health knowledge and prevent teen pregnancy and sexually transmitted infections among indigenous youth.
Water Sanitation and Hygiene Program: Mayan Families provides education on safe water infrastructure, clean water consumption, hand washing, and food hygiene.
Community Garden: Mayan Families runs a community garden program for mothers of the pre-school children to empower women with basic gardening skills, cooking classes, and nutrition knowledge.
Charlie Gomez Medical Clinic: The clinic provides preventative and primary health care to people of all ages with a focus on health education and promotion. Primary health issues are chronic malnutrition, diabetes, and maternal mortality. The clinic includes a newly developed Diabetes Program to combat the growing spread of the disease in the local population.
Mayan Families Elderly Care Program: Offers food assistance and medical care to abandoned and neglected elderly persons.
Well Mother Well Baby Program: Guatemala has the highest rate of chronic childhood malnutrition in the region and the fourth highest rate in the world. The eight month targeted intervention provides mothers and their children with emergency nutritional aid, regular access to medical professionals, and education on nutrition and hygiene.
Kids in Critical Need: Offers vulnerable children in Panajachel and San Jorge a safe environment and nutritious meals.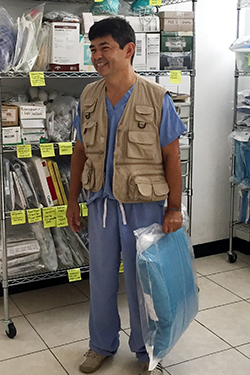 Dr. Francisco Mendez is a local physician in the lake Atitlan region. He is a Mayan doctor who grew up during the Civil War and received protection from the Catholic Church. Dr. Mendez has a Masters in Public Health and completed a pediatrics internship at the University of Utah. He has served as a consultant for local and international organizations regarding reproductive health programs and maternal and child health programs. He lives and practices in the lakeside village of San Pedro. He has a broad vision for public and reproductive health. Dr. Mendez is fully Maya and speaks all 3 native dialect a skill set that makes him invaluable in the local community. He and his wife Karina work together in the clinic. He also makes home visits and in collaboration with other physicians, is building a 10-bed hospital in his home town.
Jabel Tinamit is a Spanish language school in Panajachel that is Mayan owned. The school has a newly developed social program designed to boost academic
achievement of the local population. They promote reading, provide classes in basic computation and technology, and teach classes to reinforce students' skills in
math, English and art. They also have a community garden and provide cooking classes to help improve the health of their Mayan clients.
SHARE is a non-profit NGO in Guatemala that reaches the most needy communities and inspires people through the Entrepreneurial Development Programs. Their mission is to inspire people to improve their quality of life, through the development of their skills and sustainable use of their resources.