Advising Center
In the School of Family Studies and Human Services, the Advising Center is staffed by a full-time professional advisor, Jill Parker. Advising offices are located in the FSHS Student Success Center in Justin 245. All Human Development and Family Science (HDFS) and Personal Financial Planning (PFP) undergraduate students are advised through the Center. Undergraduate students in Communication Sciences and Disorders (CSD) are also advised through the Center until they reach junior standing. At that time, students in CSD are assigned an advisor in the CSD program and must meet eligibility criteria to enroll in CSD course (junior standing and cumulative GPA of 3.0 or better).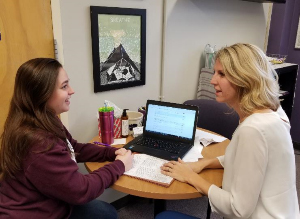 Academic Advising is an important component of a student's academic success and students are encouraged to develop a relationship with their advisor. Kansas State has a university-wide academic advising syllabus. This document is helpful for students to understand what an academic advisor does and both the student's and advisor's responsibilities in this important relationship.
Check out their Youtube channel for helpful videos for navigating through college.
Minors, Certificates and Secondary Majors
Some of the most commonly added minors, certificates or secondary majors include, but are certainly not limited to:
Or take a look at our handout (PDF) for more details and more options.
Are you interested in a health profession?
Health and Human Services has health profession advisors available to help you turn your undergraduate degree into a pre-health plan. To meet with them, please call 785-532-5500 or come by the Dean's Office in 119 Justin Hall and ask the receptionist to schedule an appointment for you.
Adam Dieker advises students interested in careers in Occupational Therapy, Optometry, Pharmacy, and Physical Therapy.
Susan Watt advises students interested in careers in Medicine, Dentistry, Physician Assistant, Nursing, and Chiropractic.
Adam and Susan serve Pre-Health students by:
Assisting them with long-range academic planning
Assisting them with class selections that fulfill professional school prerequisites
Helping them understand the components of a competitive application
Discussing strategies helpful in creating a strong academic record
Directing them to appropriate campus resources
Assisting them with the professional school application process