Katie Pohlman
Gould Evans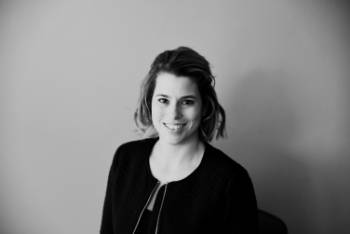 Senior Associate - Interior Designer
Upon graduation from Kansas State University, Katie enrolled in Oxford University/Oxford Brookes University in England to explore the crossover of sustainable design with historic practices through graduate-level studies. There she learned to design buildings from a conservation viewpoint, and she earned a Master of Science in Historic Conservation.
Now serving as an interior designer, Katie brings over 7 years of expertise in interior design, space-fit planning, and programming. She has been a valuable addition to the Gould Evans' team for over 3 years. Working across project types including workplace and education, Katie is passionate about helping her clients seek better experiences and environments for themselves and the people they serve. Katie is a natural leader, her vibrant personality and enthusiasm reflects on all of her projects and client-relationships.
In addition, Katie is involved in the Sustainability Design Initiative and Equity, Diversity and Inclusion committee in the Gould Evans' Kansas City Studio. She works with fellow colleagues to make sure projects are designed in a holistic manner that touches everything from design to community and the greater impact design has on the environment.