Catie Shaffer, NCIDQ, IIDA, LEED AP
GLMV Architecture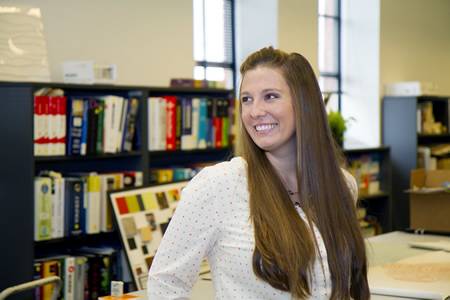 Interior Designer
Catie is a 2008 graduate from the interior design program at Kansas State University. After graduation, Catie worked for Gossen Livingston Associates in Wichita, KS which due to a merger is now GLMV Architecture. In the past 12 years that Catie has been with GLMV, she has designed and completed a variety of project types across a broad range of markets. Her primary focus is education and government, with years of experience in designing for the general government, as well as for elementary and middle schools, universities and corporate entities. As a LEEP AP and NCIDQ-certified interior designer, Catie's work puts her at the intersection of interiors and sustainable design.
An active member in the community, Catie has served on the IIDA Wichita City Center committee since graduation as Student Chair, Programs Chair and City Center Director. Catie also implemented the first IIDA Wichita Superhero 5k charity event and has served as the head of the 5k committee, raising thousands of dollars for local Wichita children's charities in just three short years. Due to her natural curiosity and passion for learning, she was instrumental in forming networking opportunities for the Wichita chapters of AIA, USGBC, PGASLA, SMPS, CFMA, IFMA, ASHRAE, NAWIC and SEAKM in order to learn more about other aspects of the architectural business.
A true renaissance woman, she's a runner, yogi, and homesteader, raising free-range chickens (and someday, goats!) on the 17-acre farm she shares with her husband and daughter.