Kinesiology Graduate Program Description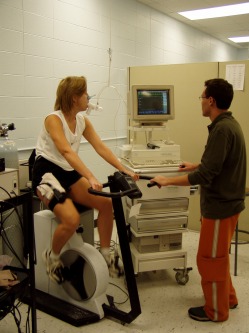 The Department of Kinesiology has assembled a nationally and internationally known group of faculty involved in the study of the importance of physical activity for an individual's physical, social and mental health. Our faculty is engaged in a wide variety of study; from the role of kinetics of muscle oxygen exchange in health and chronic heart failure to the contribution of physical inactivity to the development and maintenance of childhood obesity. Projects range from the use of animal models to study disease states to the testing of novel intervention programs designed to change the health of whole communities. The common theme that binds us together is the study of physical activity and health.
The Department of Kinesiology offers programs of study leading to the Master of Science degree. Students usually choose one of the three emphasis tracks. The first is the Physiological Basis of Physical Activity (e.g. exercise physiology, pathophysiology). The second is Exercise Behavioral Science (e.g. exercise psychology, physical activity epidemiology, physical activity promotion). Students completing this emphasis can seek certification by the American College of Sports Medicine (ACSM) as a Public Health Physical Activity Specialist. The third is Clinical Exercise Specialist. The emphasis in clinical Exercise Specialist encourages students to gain expertise in both physiological and behavioral issues related to physical activity promotion. In some instances, students choose to design programs that integrate all areas of focus. Individual programs are determined by the major professor, the student's supervisory committee, and the student.
The department is also an active participant in the KSU Master of Public Health Program, a University interdepartmental program. Among other areas of emphasis, students can focus their studies on food safety, infectious diseases, human nutrition, physical activity, or a combination of nutrition and physical activity program. In addition, faculty from the kinesiology department participate in the doctoral (Ph.D.) programs housed in Human Nutrition with an emphasis in Public Health Physical Activity and Anatomy and Physiology. This allows students the opportunity to earn a doctorate with a Kinesiology Professor as the student's major professor.
Quick Links: