Schedule


Try out our new member portal and reserve a spot in class! Membership portal access.
Regular CrossFit Schedule
(No open gym while classes are in session)
Elements Classes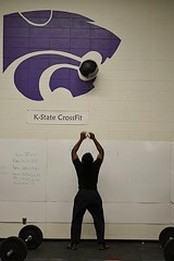 Required before signing up for regular classes
Cost: $42 for four hours instruction ($21 students/current LIFE members)
Please contact the LIFE Program at 785-532-6765 or email life@k-state.edu to schedule your elements classes.
Options are:
2 days/2 hours, or 4 days/1 hour on any day of the week.
Repeating Special Events
Rx Checklist Challenge
- First Saturday of every month - 8am-Noon - Cost: one-time fee of $15
Team Workout
- Last Saturday of every month - 9-10am - Cost: part of regular classes