Physical Activity Intervention Research Laboratory (PAIR Lab)
Lab Mission
The mission of the Physical Activity Intervention Research Laboratory (PAIR Lab) is to develop and deliver interventions to promote physical activity and reduce sedentary behavior in a variety of populations. The PAIR Lab focuses on teaching individual behavior change strategies and developing support systems to enhance adoption and maintenance of physical activity. In addition, studies examine the social and psychological factors that influence physical activity participation, as well as the influence of physical activity participation on physical and mental health outcomes that impact quality of life. A core goal of the PAIR Lab is to design effective, sustainable interventions that can be adopted and implemented in various settings to have a significant public health impact.
Current research projects
Stand Up Kansas – This worksite intervention will examine the effects of a multilevel intervention on occupational sitting time among employees of Kansas government agencies.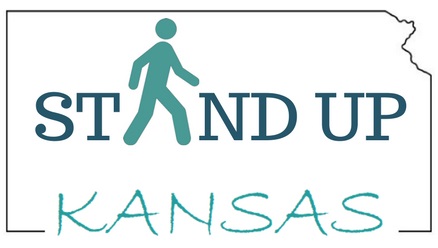 Recently completed projects
InDependent: Promoting Military Spouse Health – This group-based, web-delivered intervention was tailored to help military spouses reach their health and wellness goals while balancing the demands of military life.
Up4Health – This study compared two different intervention approaches to reduce sitting time in the workplace among female sedentary employees. We assessed the intervention effects on sedentary behavior, CVD risk factors, and affective outcomes. Read about the results here:
Mailey, E. L., Rosenkranz, S. K., Casey, K., & Swank A. (2016). Comparing the effects of two different break strategies on occupational sedentary behavior in a real world setting: A randomized trial. Preventive Medicine Reports, 4, 423-428.doi: 10.1016/j.pmedr.2016.08.010

Mailey, E. L., Rosenkranz, S. K., Ablah, E., Swank, A., & Casey, K. (2017). Effects of an intervention to reduce sitting at work on arousal, fatigue, and mood among sedentary female employees: A parallel-group randomized trial. Journal of Occupational and Environmental Medicine. doi: 10.1097/JOM.0000000000001131
Fit Minded Working Moms – This web-based intervention used engaging podcasts, online discussions and activities to bring working moms together to overcome the challenges of making time for their own health and well-being. Read about the results here:
Mailey, E. L., Huberty, J. L., & Irwin, B. C. (2016). Feasibility and effectiveness of a web-based physical activity intervention for working mothers. Journal of Physical Activity and Health, 13(8), 822-829. doi: 10.1123/jpah.2015-0643
Manhattan Active Moms Study - This study examined the effectiveness of group workshop sessions that used a general or specific exercise recommendation to promote physical activity among new moms. Read about the results here:
Mailey, E., & Hsu, W. (2017). Is a general or specific exercise recommendation more effective for promoting physical activity among postpartum mothers? Journal of Health Psychology. doi: 10.1177/1359105316687627
Our lab has also done research to better understand physical activity barriers and facilitators among parents. Read about this work here:
Mailey, E. L., Phillips, S. M., Dlugonski, D., & Conroy, D. E. (2016). Overcoming barriers to exercise among parents: A social cognitive theory perspective. Journal of Behavioral Medicine, 39(4), 599-609. doi: 10.1007/s10865-016-9744-8

Mailey, E. L.,Huberty, J. L., Dinkel, D., & McAuley, E. (2014). Physical activity barriers and facilitators among working mothers and fathers. BMC Public Health, 14, 657. doi:10.1186/1471-2458-14-657

Lab Resources
Most of the research conducted in the PAIR Lab takes place in the Physical Activity and Nutrition Clinical Research Consortium (PAN-CRC), which is a collaborative clinical research facility. The PAN-CRC includes a large conference room for group-based workshop sessions, two Precor treadmills and a large group activity room for exercise training studies, and a childcare room to accommodate parents who participate in our research. In addition, the facility includes multiple examination rooms for assessing body composition, measuring cardiorespiratory fitness, processing blood samples, and evaluating a variety of clinical health outcomes.
The PAIR Lab is also equipped with 50 GT3X+ Actigraph accelerometers for objective physical activity assessment and uses Survey Monkey and Qualtrics for online data collection.
Our laboratory has developed a variety of behavior change tools and resources to benefit individuals who are working to adopt and maintain a physically active lifestyle. For a quick overview of strategies busy working professionals can use to fit physical activity into their lives, try this: [Making time for exercise (pdf)]
Additionally, here are some ideas for incorporating more movement during your workday: [Sit less at work (pdf)]
We also have handouts that go into greater depth on topics related to physical activity adoption and maintenance. We hope you will find something that interests you
Student Opportunities
The PAIR Lab is currently recruiting graduate and undergraduate students to assist with research projects. Students interested in promoting physical activity and public health will receive hands-on experience developing and conducting physical activity interventions. Students are also encouraged to pursue their own research interests with the support and supervision of Dr. Mailey. Students will have the opportunity to work closely with other students and faculty affiliated with the K-State PAN-CRC. Masters students have the option of pursuing a MS in Kinesiology or a Master's in Public Health. PhD students will have the opportunity to publish in peer-reviewed journals and present their work at national and international meetings.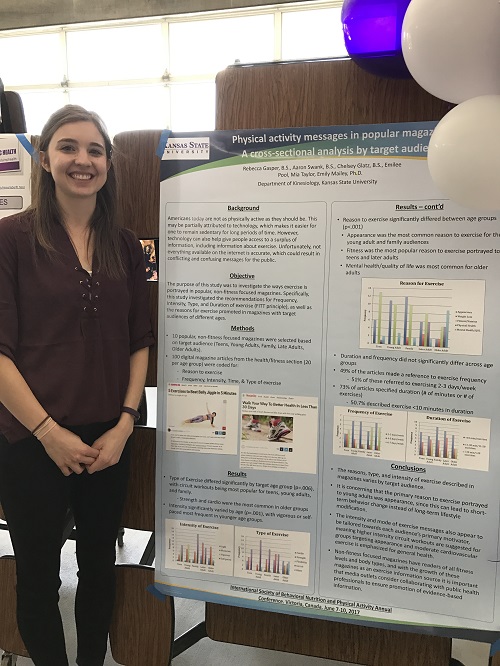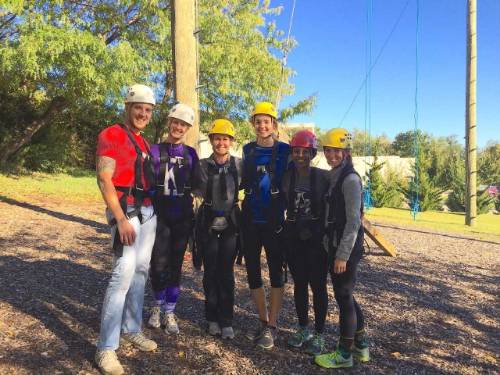 Contact information
Dr. Emily Mailey: emailey@k-state.edu
Phone: 785-532-7287
Fax: 785-532-6486