Exercise is Medicine® on Campus (EIM-OC) is a collaborative effort between the Kinesiology department and the Kinesiology Student Association that encourages faculty, staff, and students to work together toward improving the health and well-being of the campus community by:
Making movement a part of the daily campus culture
Providing students the tools necessary to strengthen healthy physical activity habits that can last a lifetime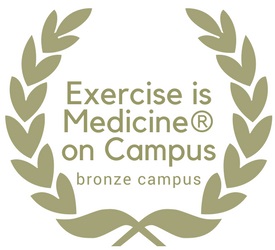 The American College of Sports Medicine's EIM-OC committee recently recognized Kansas State University as Bronze level campus in acknowledgement of efforts to promote physical activity on campus during the month of October. Bronze level universities focus on physical activity promotion and awareness of opportunities to be physically active. Bronze universities aim to make physical activity a priority on campus and within the surrounding community, emphasizing the benefits that come with regular exercise.
To learn more about how to get involved, please contact Lauren McDaniel (lmcdan@ksu.edu).