Megan McCoy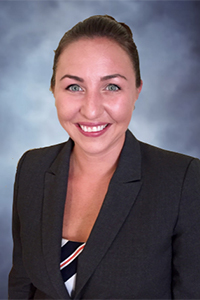 Assistant Professor
Director of PFP M.S. Programs
LICENSED MARRIAGE AND FAMILY THERAPIST
Contact Information
343N Justin Hall
785-532-5510
meganmccoy@k-state.edu
Courses I Teach
PFP 105: Introduction to Financial Planning
PFP 768: Introduction to Financial Therapy
PFP 769: Relationships and Money
PFP 771: Financial Therapy Theory and Research
PFP 888: Research Methods in Financial Planning
HHS 203: Financial Well-being
Education
Ph.D. in Human Development and Family Studies: Marriage and Family Therapy, University of Georgia (2016)
M.S. in Marriage and Family Therapy, Drexel University (2008)
B.A. in Psychology, University of North Carolina (2005)
Short Biography
Megan McCoy, Ph.D., LMFT is an adjunct faculty member at Kansas State University where she teaches courses for the Financial Therapy Certificate Program. She received her Ph.D. in Human Development and Family Sciences with an emphasis in Marriage and Family Therapy from the University of Georgia.
Her research interests truly focus on Financial Therapy and how to create more empirical evidence to support work that she has seen change so many lives in her clinical experiences. Her work has been published in The Journal of Financial Therapy, The Journal of Financial Planning, The Journal of Family Economic Issues, The American Journal of Family Therapy, Journal of Systemic Therapies, Women and Therapy, Journal of Couple and Family Therapy, Journal of Sex and Marital Therapy, and Journal of Creativity in Mental Health.
Dr. McCoy serves on the board of Financial Therapy where she chairs two committees (Social Media/Marketing and Special Topics Webinars). She has served as an invited reviewer for The Journal of Financial Therapy, The Journal of Financial Counseling and Planning, and The Forum for Family and Consumer Sciences. Although not practicing at this moment, Dr. McCoy has extensive clinical experience working with individuals, couples, and families. Most notably, she had the chance to work at an integrated clinic practicing financial therapy alongside financial planning graduate students.