Graduation
Fall 2020 commencement ceremonies have been rescheduled for November 20 - 22. Graduates from the spring semester are invited to participate. More information can be found in the announcement from the university.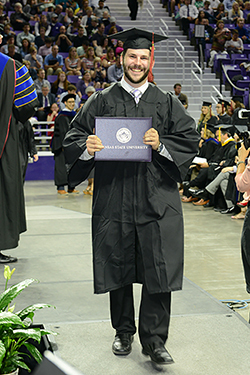 Congratulations! It is a special time as you approach the completion of your degree, and faculty members in the College of Health and Human Sciences are very proud of you. As a graduate of the College, you will receive college and alumni newsletters as well as be invited to alumni events during the years to come. I'm pleased to share that the College of Health and Human Sciences, in recognition of your graduation, has paid for your first year's membership to the K-State Alumni Association. We hope you will keep in touch, too, because your success will help us plan programs for those that follow you.
Sincerely

John Buckwalter
Betty L. Tointon Dean,
College of Health and Human Sciences
Requirements
Kansas Board of Regents Requirements
Up to half of the credits required for a four-year degree may be completed at an accredited two-year institution. If your program requires 120 hours, then you can take 60 credit hours from a two-year institution. If your program requires 124 or more hours, then you can take a maximum of 62 credit hours from a two-year institution.
A minimum of 45 hours must be taken at the course level of 300 or above (i.e., junior level and higher).
Kansas State University Requirements
Each student must complete at least 30 K-State resident credits to be considered for a degree from K-State. In resident refers to course completed at the Manhattan campus, Salina campus or through K-State Global Campus.
A student must complete 20 of the last 30 hours of resident credits through K-State. In other words, no more than 10 hours of transfer credit hours may be applied toward the last 30 hours you take for your degree.
Completion of the K-State 8 requirements. K-State 8 can be met by both K-State and transfer courses.
College of Health and Human Sciences Requirements
The college requires a 'C' or higher in all "Professional Studies" courses. Some programs have higher requirements.
A minimum of 30 hours of College of Health and Human Sciences specific courses must be completed. This may include transfer courses ONLY if they are equivalent. Refer to the transfer equivalency page to make sure, or consult your advisor.
Graduation Check
Three semesters (approximately 85 hours completed) prior to graduation, a graduation check is performed by the dean's office. This check is done to ensure that all requirements will be met so you can graduate at the time you desire.
Ultimately, a student is responsible for assuring their plans, goals and accomplishments are met, especially fulfilling all of the requirements of the curriculum in which they are enrolled. It is important to work closely with your advisor during your final semesters.
Awards and Honors
Prior to commencement each semester, the college celebrates its outstanding senior undergraduates at the College of Health and Human Sciences Commencement Graduation Honors and Student Awards Celebration. The invited students are those who will be receiving university scholastic honors or who have been chosen as student commencement speaker or outstanding seniors by their program. The college's events coordinator will notify students receiving awards prior to the event. All questions about the awards reception should be directed to the events coordinator, Chelsi Medved.
---
Important Graduation Deadlines & Information
Fall 2020
Graduation Application Process (final semester)
Students can begin submitting their application in KSIS the first week of the semester. It is best to submit your application as soon as possible in your final semester in order to ensure 1) your application is approved, and 2) that your name appears in the commencement program.
An instruction presentation (pdf) is available for you before you go into KSIS to apply. The presentations address how to apply for graduation, information on scholastic honors, and general commencement ceremony information. Additional information will be available on the Registrar's Office website.
Applying for Student Commencement Speaker - Deadline: September 30, 2020
Are you interested in being the student commencement speaker for your upcoming commencement ceremony? Complete the above application and submit it to Chelsi Medved, events and communications coordinator, in 119 Justin Hall by 5 p.m. on the deadline above. You will also need to submit a resume via email to cmedved@k-state.edu.
This page has a link to the Commencement Instructions document (pdf) that includes Guest Information, Parking and Accessibility, Academic Apparel and the Commencement Checklist.
Ceremony Information
About a week before our ceremony, instructions and diagrams about our ceremony will appear here. It is very important that you read thorough the information before coming to the ceremony.
Double majoring students
Double majoring students will walk once during the College of Health and Human Sciences Commencement ceremony. Your name card, which you will receive when you arrive at Bramlage Coliseum, will have your Human Ecology degree with both majors read off, any honors if you qualify and then your name. Your name card will be read as you cross the stage to receive your one diploma cover. If you have any questions, please contact the Dean's Office 785-532-5500.
Dual majoring students
Dual majoring students are graduating with two degrees from Human Ecology. We need to know for logistical purposes if you want to walk once OR twice. If only once, then with which degree? If you choose to walk once, than your name card will have both your degrees listed, any honors if you qualify and then your name. If you want to walk twice, please contact Chelsi Medved, events and communications coordinator, at 785-532-3360,
cmedved@k-state.edu
or stop by 119 Justin Hall to discuss logistics.
Commencement Do's and Don'ts (pdf)
Audience Seating Help
Graduates in the Department of Apparel, Textiles and Interior Design and the School of Family Studies and Human Services will be seating on the west side of the floor. They will walk from west to east. If your guests would like to see you walk across the stage, they should sit in sections on the east side (17-20).

Graduates in the Department of Food, Nutrition, Dietetics and Health, the Department of Hospitality Management, General Human Ecology and Family and Consumer Sciences, and the Department of Kinesiology will sit on the east side of the floor. They will walk from east to west. If your guests would like to see you walk across the stage, they should sit in sections on the west side (4-8).
Faculty Diploma Presentation
Current or emeriti K-State faculty members may request the option of presenting a close family member, such as a child, their diploma at Commencement. However, this must be arranged in advance. Please,
complete this request form
. For more information contact the Chelsi Medved 785-532-3360.
Diploma Distribution Information
Information about using your K-State eID after you graduate
Photos from Commencement


Grad Images is where you can find your photos by entering your Last Name, Kansas State University and selecting 2020 from the drop-down menu. Once you see your name, click on the link to view your photos.
If you need additional help to locate your photos, call 800-261-2576 or e-mail giservice@gradimages.net.