Graduation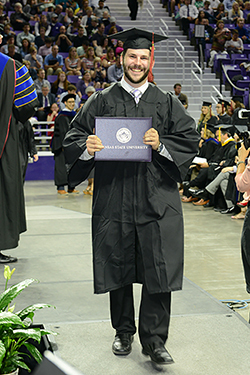 Congratulations! It is a special time as you approach the completion of your degree, and faculty members in the College of Health and Human Sciences are very proud of you. As a graduate of the College, you will receive college and alumni newsletters as well as be invited to alumni events during the years to come. I'm pleased to share that the College of Health and Human Sciences, in recognition of your graduation, has paid for your first year's membership to the K-State Alumni Association. We hope you will keep in touch, too, because your success will help us plan programs for those that follow you.
Requirements
Graduation Check
Three semesters (approximately 85 hours completed) prior to graduation, a graduation check is performed by the dean's office. This check is done to ensure that all requirements will be met so you can graduate at the time you desire.
Ultimately, a student is responsible for assuring their plans, goals and accomplishments are met, especially fulfilling all of the requirements of the curriculum in which they are enrolled. It is important to work closely with your advisor during your final semesters.
Awards and Honors
Prior to commencement each semester, the college celebrates its outstanding senior undergraduates at the College of Health and Human Sciences Commencement Graduation Honors and Student Awards Celebration. The invited students are those who will be receiving university scholastic honors or who have been chosen as student commencement speaker or outstanding seniors by their program. The college's events coordinator will notify students receiving awards prior to the event. All questions about the awards reception should be directed to the events coordinator, Chelsi Medved.
Important Graduation Deadlines & Information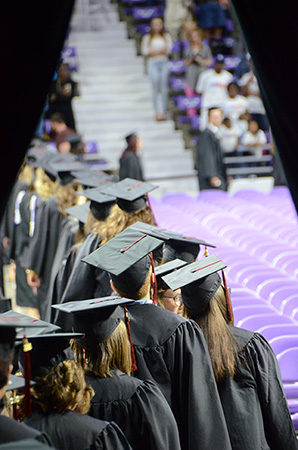 Spring 2022
Graduation Application Process (final semester)
Students can begin submitting their application in KSIS the first week of the semester. It is best to submit your application as soon as possible in your final semester in order to ensure 1) your application is approved, and 2) that your name appears in the commencement program.
An instruction presentation (pdf) is available for you before you go into KSIS to apply. The presentations address how to apply for graduation, information on scholastic honors, and general commencement ceremony information. Additional information is also contained on the Registrar's Office website.
Applying for Student Commencement Speaker - Deadline: March 23, 2022
Students approved to graduate in May 2022 are invited to apply to be the student commencement speaker. The student commencement speaker gives a 2-3 minute speech during the commencement ceremony on behalf of their fellow graduates. Applications are due Friday, March 23. You will also need to submit a resume via email to cmedved@k-state.edu.
Ceremony Information
HHS Spring 2022 Ceremonies will be hosted:
Saturday, May 14 at 4:30 in Bramlage Coliseum
Visit the University's Commencement webpage for more information.
Diploma Distribution Information
Information about using your K-State eID after you graduate
Photos from Commencement

Grad Images is where you can find your photos by entering your Last Name, Kansas State University and selecting your year of graduation from the drop-down menu. Once you see your name, click on the link to view your photos.
If you need additional help to locate your photos, call 800-261-2576 or email giservice@gradimages.net.