Message from the Dean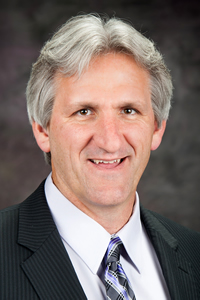 John Buckwalter, Dean
We are a college made up of many diverse parts.
That breadth is one of our strengths. Everything we do is relevant to major issues of society. David Thompson teaches conflict resolution. Sonya Britt understands family financial planning. Barbara Anderson is committed to sustainability in interior design. Tim Musch helps students understand physiology as it relates to exercise, disease and well-being. Sandra Stith finds solutions to domestic violence. Kevin Sauer teaches students how to influence healthy eating decisions. Weiqun Wang explores the relationship between functional foods and chronic disease prevention. Bronwyn Fees examines how children learn.
These are but a few of the areas we cover. The unifying theme is that we focus on humans... we put people first.
We are committed to making Kansas State University one of the best public research institutions in the country. Our research – conducted by faculty, undergraduates and graduate students – promotes health and well-being in all facets of human life. Our areas of expertise include couple and family therapy, textiles, interior design, family studies and human services, gerontology, personal financial planning, dietetics, kinesiology, athletic training, human nutrition, sensory analysis, hospitality management and more.
We are committed to making the College of Health and Human Sciences a place that gives students an exceptional educational experience. We focus on students and their potential so they can graduate with skills to lead productive successful lives, to be leaders in their professions and in their communities.
The College of Health and Human Sciences was one of the first programs established at Kansas State University. We have been contributing to scholarship and its application – putting people first – for nearly 150 years.
If you have questions or want to learn more about our college, we would love to hear from you.
John Buckwalter, Ph.D.
Dean