Mary F. DeLuccie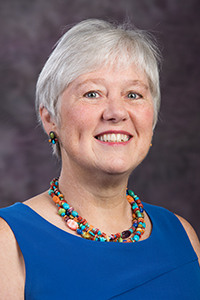 Associate Professor
Contact Information
303 Justin Hall
785-532-3535
deluccie@k-state.edu
Education
Ph.D. in Life-span Human Development, Kansas State University
M.S. in Family Studies, University of New Mexico
B.S. in Vocational Home Economics Education, University of New Mexico
Area(s) of Specialization
Early childhood teacher education, birth through kindergarten
Early childhood program administration and advocacy
Home, school and community relations
Parent education
Courses Taught
FSHS 540 Curriculum for Cognitive and Language Development of Young Children
FSHS 555 Early Childhood Practicum III: Kindergartners
FSHS 598 Student Teaching in Early Childhood Unified
FSHS 670 Working with Parents
FSHS 710 Child Care Components and Issues
FSHS 730 Early Childhood Program Administration
FSHS 740 Play Facilitation
FSHS 830 Advanced Program Development in Early Childhood Education
Professional Biography
Mary DeLuccie's professional interests have always centered on children and families. Her baccalaureate study prepared her for teaching high school home economics courses, which included occupational programs in child care and hospitality services for five years in Alamogordo, New Mexico. Her passion for child development and early education was fueled during her master's study in family studies at the University of New Mexico, where she served as a graduate teaching assistant. Interest in learning more about the empirical and theoretical foundations of child development and the application of best practices in services for children and families led her to doctoral study at Kansas State University. Appreciation that child development occurs in the context of home and community guides Mary's professional work.
Currently she teaches early childhood courses at the graduate and undergraduate levels, provides service and administers the nationally-accredited Stone House Early Childhood Education Center. She developed and directs an award-winning early childhood education distance learning program originally designed to provide place-bound Kansas Head Start teachers with the opportunity to complete a bachelor's degree and earn teacher licensure. Today the program enrolls students from across the United States and from foreign countries. Mary is actively engaged with faculty from the College of Education in work concerning the accreditation of teacher education programs at K-State. She participates in state and local activities designed to support the healthy development of children and families, including committee work with Kansas State Department of Education, Kansas Association of School Boards, Kansas Association for the Education of Young Children, the Heartland Association for the Education of Young Children, USD 383 Roosevelt Elementary School Site Council, the Greater Manhattan Community Foundation and Raising Riley Right. In addition to service on numerous college and university committees, Mary also has served on several local City boards, including the Social Services Advisory Board, the Drug and Alcohol Board and the City-University Partnership Board.
Personal Information
Mary DeLuccie grew up in Scranton, Pennsylvania. Thanks to her father's career move to New Mexico, she had the opportunity to fall in love with the Southwest while completing her bachelor's and master's degrees at the University of New Mexico. While teaching high school she developed an occupational course in exploring childhood, which ignited a life-long passion for child development and early care and education in a family context. A fan of genealogy, she has traced her paternal lineage to the 1700s, to a small seacoast village in southern Italy, Santa Maria di Castellabate. Over the past few years she has visited relatives residing there and increased her fluency in Italian. In 2014 she developed a study tour to provide students with the opportunity to study children and families in Rome and in Santa Maria. Touring significant historical and cultural sites in both locations and volunteering at a local child care program in Santa Maria provided students with a good understanding of contemporary family life in Italy. The village government has invited Mary and her students to make this study tour an annual event. In her spare time, Mary enjoys studying Italian, reading mysteries and traveling to the deserts of the Southwest and the beaches of Florida. Mary is married to Rick Scheidt, a geropsychologist in the Department of Applied Human Sciences, and they have two young adult sons, Eric and Nick, who are attending K-State.