Joyce Baptist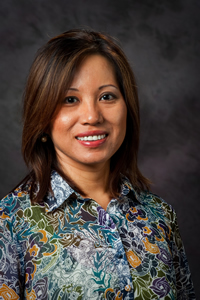 Professor
Contact Information
114 Campus Creek Complex
(785) 532-6891
jbaptist@k-state.edu
Education
Ph.D. in Human Development, Marriage and Family Therapy emphasis, Virginia Polytechnic Institute and State University, Blacksburg, Virginia
M.A. in Community Counseling, Family Systems emphasis, Loyola University, Chicago, Illinois
Chartered Management Accounting, SEGi University, Kuala Lumpur, Malaysia
Credentials and/or Certifications
Licensed Clinical Marriage and Family Therapy (LCMFT), Kansas Behavioral Sciences Regulatory Board, Topeka, Kansas
Approved Supervisor, American Association of Marriage and Family Therapy, Alexandria, Virginia
Area(s) of Specialization
Clinical treatment of trauma, couples and culturally diverse groups
Research Interests
Dr. Baptist's research agenda focuses on improving mental health. Her clinical research examines the efficacy of extending Eye Movement Desensitization and Reprocessing therapy beyond trauma to include depression. Her other research interests include resilience in military families, cross-cultural understanding of emerging adults, and issues affecting sustainability in cultural minority families.
She currently supervises the research of five doctoral students, three master's students and one undergraduate student whose areas of research include multiracial identity and relationship development; violence in relationships; expanding therapy treatments for sexual trauma and for alcohol use; and needs assessment of military-connected youth and for sex education. Recent doctoral student research includes intergenerational transmission of resilience in indigenous families, as well as cyber relationships and marriages.
Courses Taught
FSHS 300 & 700 Sociocultural Diversity in Malaysia (Study Abroad)
FSHS 853 Family Systems in Cultural Context
FSHS 885 & 985 Practicum in Marriage and Family Therapy
FSHS 985 Marriage and Family Therapy Supervision
FSHS 986 Practicum in Supervision
FSHS 894 Introduction to Eye Movement Desensitization and Reprocessing
FSHS 897 Systemic Assessment and Treatment of Psychopathology
Professional Biography
Joyce Baptist, associate professor of marriage and family therapy (MFT), is a Licensed Clinical MFT and an AAMFT Approved Supervisor. She completed a medical family therapy internship at the Dartmouth Medical Family Residency, Concord, New Hampshire. A native of Malaysia, Baptist was faculty and department head in a business college in Malaysia prior to migrating to the U.S. She served as faculty and program director of marriage, family and child counseling at California State University, Sacramento, prior to joining Kansas State University.
At K-State, Baptist teaches, supervises and serves on committees for master's and doctoral students. Her research interests include efficacy of therapy, resilience in military families, cross-cultural understanding of emerging adults and issues affecting sustainability in marginalized families. Research topics have included stress of war deployment on military couples and families, relationship maintenance and conflict management, and topics related to gay sexual identity.
Baptist specializes in treating couples and families experiencing trauma, and in using Eye Movement Desensitization and Reprocessing (EMDR) therapy to process trauma and depression. Her administrative roles include overseeing the admissions to the MFT master's degree program, serving as the editor-in-chief for the Journal of Feminist Family Therapy and advisor for the Malaysian Student Association at K-State.
Baptist's work has extended to parts of Asia and Africa. Her research has included psychosocial needs assessment of orphans and vulnerable children in Kenya, and relationship maintenance and intergenerational transmission of violence in Malaysia. She helped develop a couples and family therapy ministry clinic in Malaysia and a family life curriculum for the Catholic diocese in Kenya. Baptist provides ongoing MFT training and consultancy in Malaysia.
Personal Information
Baptist is of Portuguese, Baba and Chinese descent. She was born in Singapore, raised in Malaysia and has lived in the U.S. since 1997. She is married and has a daughter. For recreation, she practices yoga, enjoys kayaking, bicycling and catching a show at McCain Auditorium on campus. She especially enjoys exploring new lands, having visited a sixth continent this year. The opportunity to pursue her research interests, mentor and train future clinical supervisors and clinicians is what brought her to K-State. The support of the administration, the collegiality of faculty and quality of K-State's graduate students are what I love about the university.