Joyce Baptist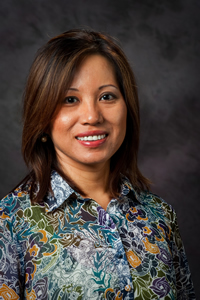 Professor
Contact Information
114 Campus Creek Complex
(785) 532-6891
jbaptist@k-state.edu
Education
Ph.D. in Human Development, Marriage and Family Therapy emphasis, Virginia Polytechnic Institute and State University, Blacksburg, Virginia
M.A. in Community Counseling, Family Systems emphasis, Loyola University, Chicago, Illinois
Chartered Management Accounting, SEGi University, Kuala Lumpur, Malaysia
Credentials and/or Certifications
Licensed Clinical Marriage and Family Therapy (LCMFT), Kansas
Certified Eye Movement Desensitization and Reprocessing (EMDR) therapy
Approved Supervisor, American Association of Marriage and Family Therapy
Area(s) of Specialization
Clinical interventions for suicidality and depression
Cultural discrimination and couple satisfaction
Relationship maintenance across cultures
Trauma and military families
Research Interests
Dr. Baptist's research agenda focuses on improving mental health. Her clinical research examines the efficacy of extending Eye Movement Desensitization and Reprocessing therapy beyond trauma to include depression. Her other research interests include resilience in military families, cross-cultural understanding of emerging adults, and issues affecting sustainability in cultural minority families.
She currently supervises the research of five doctoral students, three master's students and one undergraduate student whose areas of research include multiracial identity and relationship development; violence in relationships; expanding therapy treatments for sexual trauma and for alcohol use; and needs assessment of military-connected youth and for sex education. Recent doctoral student research includes intergenerational transmission of resilience in indigenous families, as well as cyber relationships and marriages.
Courses Taught
CFT 984 Couple and Family Therapy Supervision
CFT 869 Systemic Treatment of Trauma, Violence and Substance Abuse
CFT 853 Family Systems in Cultural Context
HDFS 552 Families and Diversity
Professional Biography
Joyce Baptist, professor of Couple and Family Therapy (CFT), is a Licensed Clinical Marriage and Family Therapist, Certified in EMDR therapist and an AAMFT Approved Supervisor. She completed a medical family therapy internship at the Dartmouth Medical Family Residency in New Hampshire. She served as faculty and program director of marriage, family and child counseling at California State University, Sacramento, prior to joining Kansas State University. Before coming to the U.S. for graduate studies, Baptist served as Department Head of a Business School.
Dr. Baptist's scholarship focuses on the traumatic effects of contemporary stressors on minority families and efficacy of clinical interventions. Her early scholarship focused on understanding the impact of war deployment on military families, and cross-cultural conflict and relationship maintenance among Malaysian and U.S. emerging adults. This work evolved into examining the effects of discrimination on marginalized groups including mixed and minority race/religion couples, and resettlement stress of refugees. A key feature of her work is conceptualizing trauma from a sociocultural perspective. Her current work focuses on examining the efficacy of clinical interventions to mitigate suffering from trauma, depression and suicidality. She a member of EMDRIA's Council of Scholar, she coordinates a multi-site international research on depression.
Baptist teachers core academic courses to undergraduate, masters and doctoral students and serves on committees for masters and doctoral students. She has led study abroad to Malaysia/Borneo. She has served locally on the Kansas Suicide Prevention Taskforce and nationally as Editor of the Journal of Feminist Family Therapy for seven years. Her service has extended abroad to parts of Africa, Asia, and the Middle East. Early work included psychosocial needs assessment of orphans and vulnerable children in Kenya, while more recent work include presentations on couple therapy to social workers in Israel. She has continually provided couple and family therapy consultancy in Malaysia since 2000.
Personal Information
Baptist is of Portuguese, Baba and Chinese descent. She was born in Singapore, raised in Malaysia and has lived in the U.S. since 1997. She is married and has a daughter. For recreation, she practices yoga, enjoys kayaking, bicycling and catching a show at McCain Auditorium on campus. She especially enjoys exploring new lands, having visited a sixth continent this year. The opportunity to pursue her research interests, mentor and train future clinical supervisors and clinicians is what brought her to K-State. The support of the administration, the collegiality of faculty and quality of K-State's graduate students are what I love about the university.
Personal Statement
As a first generation biracial immigrant to the U.S., I value and am committed to inclusion and diversity in its broadest sense and in challenging systems of power and privilege that hurt and discriminate. My work is feminist-informed, hence I promote inclusivity and fairness, and empower groups with marginalized identities. I strive to cultivate a safe and inviting space for students to explore, reflect and challenge their cultural values and commit to promoting inclusivity, fairness and diversity, while also creating an affirming environment for minority students. Historical and contemporary social inequalities inform my research that explores resilience in vulnerable groups, such as, mixed race and Muslim couples, and LGBTQ, military and refugees families. My second line of research is aimed at enhancing treatments for recurrent depression and suicidality. My service to K-State and to international scholars and community further reflect a commitment in promoting diversity. I serve on multiple Multicultural Committees at K-State, provide couple and family therapy training in Malaysia, and for the past seven years, served as the Editor for the Journal of Feminist Family Therapy.