Kristin Anders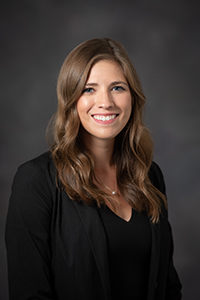 Assistant Professor
Contact Information
311 Justin Hall
785-532-5510
kanders8@k-state.edu
Education
Ph.D. in Child and Family Studies, University of Tennessee
M.S. in Child and Family Studies, University of Tennessee
Area(s) of Specialization
Sexuality
Emerging Adulthood
Dating Violence
Healthy Relationships
Sexual Education
Sexual Violence
Adolescence
Identity Development
Research, Scholarship, and Creative Endeavors
Dr. Ander's research program focuses on sexual and relationship development in adolescence and emerging adulthood. Specifically, much of her work focuses on emerging adult sexual identity development, the use of violence in sexual and romantic relationships, and understanding how cultural or social norms affect identity development during adolescence. She uses this research to better inform and strengthen sexual and relationship education in high schools and colleges, along with promoting public scholarship in non-academic communities. Kristin currently serves as the Society for the Study of Emerging Adulthood (SSEA) Communications Chair and Sexuality Topic Network Emerging Scholar co-chair. Further, Kristin also serves as the Co-Director of Communications and Marketing for Relevate, a multidisciplinary project dedicated to increasing public scholarship of academic research to communities. Kristin currently co-leads the RUSH-21 Team with Dr. Yelland, along with co-leading the SHARE Team and being involved in the HAARRT Lab with Dr. Toews.
Courses Taught
HDFS 110 Introduction to Human Development
HDFS 302 Introduction to Human Sexuality
HDFS 506 Middle Childhood and Adolescence
HDFS 852 Family Theories
FSHS 865 Human Sexuality
Recent and Relevant Publications Include:
Anders, K. M., Goodcase, E., Yazedjian, A., & Toews, M. L. (2020). "Sex is easier to get and love is harder to find": Costs and rewards of hooking up among first-year college students. Journal of Sex Research, 57, 247-259. doi:10.1080/00224499.2019.1667946
Toews, M. L., Spencer, C., Anders, K. M., & **Taylor, L. (2020). The role of campus environment on bystander intentions and behaviors. Journal of American College Health. doi:10.1080/07448481.2020.1807554
Spencer, C. M., Anders, K. M., Toews, M. L., & Emanuels, S. K. (2020). Risk markers for physical teen dating violence victimization in the United States: A meta-analysis. Journal of Youth and Adolescence, 49, 575-589. doi:10.1007/s10964-020-01194-1
Anders, K. M., & Olmstead, S. B. (2019). "Stepping out of my sexual comfort zone": Comparing the sexual possible selves and strategies of college attending and non-college attending emerging adults. Archives of Sexual Behavior, 48, 1877-1891. doi:10.1007/s10508-019-01477-0
Personal Information
Kristin made the move to Kansas with her husband Tucker from Knoxville, Tennessee in summer 2017. Although Kansas may be significantly flatter than the Smoky Mountains, they have come to love the rolling hills and community unique to Manhattan and K-State. They recently welcomed a new family member (and future K-Stater) in July 2021…a little boy named Charlie! When not in her office, you can usually find Kristin enjoying all the outdoor activities that Little Apple has to offer including hiking the Konza Prairie, cycling to the Farmer's Market, or porch sitting with Tucker, Charlie, and their dog. Kristin is also an avid cook, sports fan (go Vols and Wildcats), and loves to travel (when she can).