Meredith Butler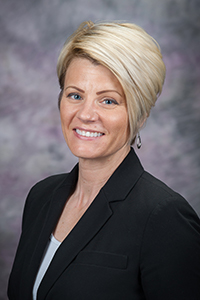 Project Director
Contact Information
Education
Kansas State University – Bachelor of Science – Criminology
Fort Hays State University – Master of Liberal Studies – Organizational Development
Credentials and/or Certifications
Certified in Individual Crisis Intervention and Peer Support and Group Crisis Intervention, International Critical Incident Stress Foundation
Certified Facilitator, CrossRoads Inc. and Real Colors –National Curriculum & Training Institute, Inc.
Certified Facilitator, Corrections Fatigue to Fulfillment, Desert Waters Correctional Outreach
Certified in the administration and scoring of the SASSI (Substance Abuse Subtle Screening Inventory), SASSI Institute
Certified Facilitator, "How Being Trauma Informed Improves Criminal Justice Systems", SAMHSA's GAINS Center
Certified in the carry and use of Pepper Spray, Aerosol Subject Restraint / OC
Certified, Fiscal Policy, Kansas Department of Corrections
Professional Biography
Meredith Butler serves as the Project Director for the 4-H Military Partnership Project at Kansas State University. In her role, she works with leaders of Air Force Child and Youth Programs, Army Child and Youth Services, Navy Child and Youth Programs, Army Guard/Army Reserve, and the United States Department of Agriculture – National Institute of Food and Agriculture, and the Land Grant University Extension system to ensure military-connected youth around the world have access to 4-H programs and opportunities.
Through the development and management of grants and special interest projects determined by military service providers to Land Grant Universities across the county, the Partnership helps to provide military readiness through 4-H positive youth development for youth, families and communities. As military families move frequently and experience the difficulties surrounding deployment and reintegration, 4-H provides predictable programming and a safe and nurturing environment for military connected children and youth to excel.
Prior to joining the Project Team at K-State, Meredith worked for the 8th Judicial District Community Corrections (Kansas) for over 20 years. There, she provided leadership and oversight of intensive community based probation programs for high-risk, high-need adult and juvenile offenders. She is certified in Group and Individual Crisis Intervention through the International Critical Incident and Stress Foundation, in cognitive behavioral programming and Real Colors™ through the National Curriculum & Training Institute, Inc., in Corrections Fatigue to Fulfillment through Desert Waters Correctional Outreach, and in trauma informed response programs through SAMHSA's GAINS center.
Meredith's strengths include strategic planning, program conception and implementation, fiscal oversight/administration, and organizational development. She earned her bachelor's degree in Criminology from Kansas State University in 1996, and her Master's degree in Organizational Leadership from Fort Hays State University in 2013.
Personal Information
I enjoy running, lifting weights, cooking, being outdoors, and traveling with my family. I love being at KSU because the environment is so warm, welcoming, and supportive – from students to staff and faculty, everyone genuinely cares about one another