Distinguished Service Award
2022 Recipient:
Leigh Eck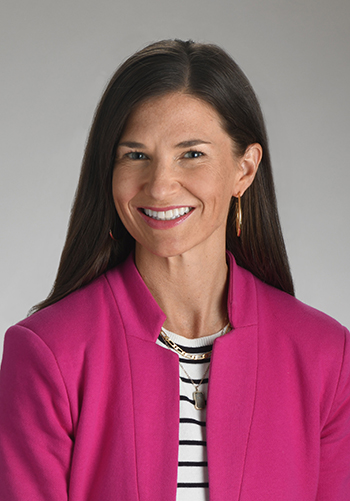 Leigh M. Eck M.D. is a professor of medicine at the University of Kansas Medical Center, KUMC, and vice chair of graduate medical education. Eck has been a member of the Department of Internal Medicine since 2008. Working alongside a fantastic medical education team, she serves as the program director for the Internal Medicine Residency Program; a role that she has held since July 2014. Annually, Eck and her team have the opportunity to teach, advise, mentor and coach ~100 internal medicine resident physicians.
Eck's scholarly work is focused on assessing interventions to imprint the well-being and training experience of the internal medicine resident physicians at the University of Kansas. Current efforts of the Internal Medicine Residency Program medical education team include implementation of experiential learning experiences in quality and patient safety initiatives, implementation of simulation activities to improve competency in high stress clinical learning environments, development and implementation of a point of care ultrasound elective curriculum and introduction of emotional intelligence coaching to residents in order to develop resilient physician leaders.
On a national level, Eck has been involved in work with the American College of Physicians, ACP, including a four-year term on the ACP Internal Medicine In-Training Examination Question Writing Committee as well as more recent authorship contributions to the endocrinology section of MKSAP 18, a resource used by internal medicine residents across the U.S. to prep for their certifying examination.
In 2014, Eck was a recipient of the KUMC Early Career Achievement in Medicine Alumni Award; in 2018, she received the University of Kansas 2018 Chancellor's Distinguished Teaching Award. In 2022, Eck received the Achievement Award for Mentoring Residents. This award provides resident physicians a way to honor faculty mentors who embodied the spirit of mentorship during their residency- recognizing the commitments made by faculty members and the dedication to their mentees to reach success in their chosen field or specialty.
Eck received her bachelor's degree in nutritional sciences from K-State in 1998. She received her medical degree from the University of Kansas Medical Center where she also completed her residency in internal medicine and clinical fellowship in endocrinology.