Executive Leadership Award
2012 Recipient: Diane Parks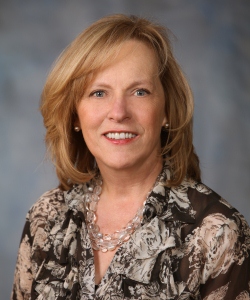 Diane Parks, vice president of sales in the nephrology unit at Amgen, has been an executive for large pharmaceutical and biotech companies for more than 30 years
The native Kansan received a bachelor's degree from K-State in fashion merchandising in 1974. She received masters of business administration in marketing from Georgia State University.
Parks began her career with Marion Laboratories (today a founding branch of Sanofi Aventis) where she led the marketing research and sales analysis for the cardiovascular team prior to becoming the group's director leading a team of 40 analysts and managers. She also worked with licensing and new product marketing, brand management and advertising as vice president of marketing. She led the launches of several new drugs including the antihistamine Allegra and diabetes drug Amaryl.
She moved to executive positions at Genentech in San Francisco before she joined Amgen, a multinational biopharmaceutical company headquartered in Thousand Oaks, Calif., in 2007. As vice president of sales for the hospital and health systems team, she and her team represented oncology and nephrology products.
Parks is a strong advocate for developing women as leaders.