Executive Leadership Award
2016 Recipient: Brett Horton
1991 B.S. in restaurant, hotel and institution management
Senior Director of Operations, WinShape Foundation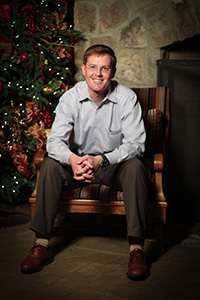 Brett Horton is the senior director of operations for the WinShape Foundation, recently promoted from director of WinShape Retreat, Mount Berry, Georgia. On a daily basis, Horton manages the WinShape Retreat, formerly the Normandy-inspired educational dairy farm of Berry College. Today the buildings offer meeting space, activities, meals and overnight stays to those who are interested in a spiritual haven that is free from media and outside influence. Groups of all sizes utilize WinShape Retreat for marriage, leadership, ministry, corporate and relationship programming. Horton oversees the Cathy Family operation, which consists of an 80-room facility, 100-acre campus, and all sales, events and food service that result in grace-based hospitality.
After earning his bachelor of science degree in restaurant, hotel and institution management from K-State in 1991, Horton traveled to West Virginia to the Greenbrier Hotel and Resort for the first three years of his career. His next leap was to the Broadmoor Hotel and Resort, managing one of its restaurants. While at the Broadmoor in Colorado, Horton earned a MBA in finance. Soon after, Horton acquired his doctorate in restaurant, hotel, institution and tourism management from Purdue University, also developing a passion for teaching as he took a faculty position at Iowa State University and then James Madison University. His passion for students fueled his desire to make a difference one student at a time.
While working hard in West Virginia, Horton met his wife of 22 years, Michelle. Their son Jay joined the family in Colorado, and Faith, their daughter, rounded out Horton's family of four while he was at Purdue.