Executive Leadership Award
2017 Recipient: Greg Ward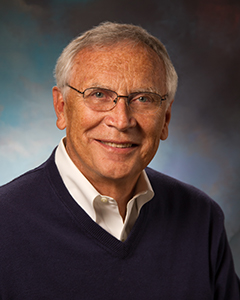 Greg Ward received his Bachelor of Science degree in Restaurant Management in 1969. He came to K-State after completing degrees at the Culinary Institute of America in 1964 and the University of Massachusetts Stockbridge.
Following his graduation, Ward began his restaurant career with Gilbert- Robinson Restaurants in Kansas City where he worked for 14 years. During his tenure, he held various roles including Assistant Manager of The Plaza III, General Manager of Arrowhead Club at Arrowhead Stadium, General Manager of Houlihan's Old Place, Area Director of Operations (Kansas City), Vice-President of Marketing and Vice-President of Specialty Restaurants.
In 1983, Ward left Gilbert-Robinson, purchased franchise rights and built a Wendy's in Pittsburg, KS. He also has co-franchises of three T.J. Cinnamons Bakery locations in Denver and Tulsa. Greg lives in Pittsburg, KS with his wife Janis, a second generation Wildcat (BS Ed.,'69). Greg has two children, Derek and Haydn, and three grandsons.