Executive Leadership Award
2019 Recipient: Kyra Dreiling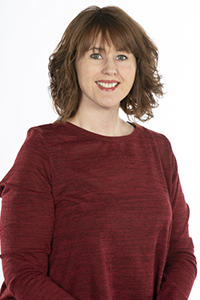 Kyra Dreiling joined GTM Sportswear in June 2005, after graduating from Kansas State University's apparel and textile program. She has held a variety of positions at GTM Sportswear in buying, store operations and management. Her real passion is in marketing and visual merchandising, all of which she executes for the retail division's key brand, K-State Super Store. She was tasked with managing the internal buildout in 2013 of the brick-and-mortar location at Bill Snyder Family Stadium, as well as lead the construction project for the flagship location of K-State Super Store at 519 McCall Road in 2014. Other professional accomplishments include leading a successful point-of-sale software change management in 2012 and multiple web store launches including the current kstategear.com in 2018. These have been great opportunities to learn about retail construction, project management, web development and continued team leadership.
In 2016, GTM Sportswear and GTM Retail (K-State Super Store) were acquired by Hanesbrands, Inc., a leader in activewear and retail markets. Since the acquisition, Kyra has had the opportunity to continue leading retail operations and experience the benefits and opportunities provided by a global powerhouse such as Hanes. She continues to challenge operations in areas such as e-commerce, event management, product development and branding.
She and her husband, Dustin, live in Manhattan and have a seven-year-old daughter, Aria, and a three-year-old son, Beau. On gamedays, you can find her in one of the many K-State Super Store locations between McCall Road and Bill Snyder Family Stadium.