Friend of the College Award
2011 Recipient: Jet Tila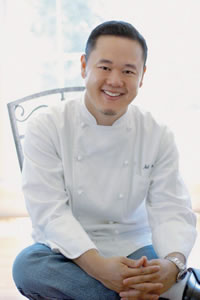 Chef Jet Tila, a Los Angeles native with no ties to Kansas, is a nationally celebrated chef specializing in all styles of Asian cuisine. Chef Tila has risen to prominence with the keen interest and excitement he brings to all his efforts. His passion for Asian food began at an early age, learning the ancient traditions of classical Asian cuisine in the family restaurants and at Bangkok Market.
Over the past 15 years, this passion has grown to include entrepreneurial achievements in teaching, writing and the Guinness Book of World Records. He is a frequent guest on NPR's "Good Food with Evan Kleiman" and has appeared on "The Best Of," "Food Finds," "The Secret Life Of" (Food Network), "Anthony Bourdain: No Reservations" (Travel Channel), "Take Home Chef" (TLC), "Smart Solutions" (HGTV), "Weekend Entertaining" (DIY) and, most recently, an appearance in kitchen stadium on "Iron Chef America." In 2009, Jet unveiled his latest creation, Wazuzu, a Pan-Asian restaurant, at the Encore resort in Las Vegas. One might also recognize him from his signature line of Asian dishes in Schwan's Home Delivery Service catalog.
Aside from Jet's capitalist ventures, he has used his time and talents to help Kansas State University's Dining Services and the Department of Hospitality Management and Dietetics create and execute the Culinary Enhancement Workshop series for students, alumni and food service professionals.
Over the last seven years of the workshop, Jet has entertained and educated participants on cuisine and culture from Thailand, China, Korea, Vietnam, Japan and Malaysia. Jet's charming personality, deep voice, humble demeanor and genuine love and talent for educating others created workshop experiences that participants still brag about.
In an effort to keep the workshop viable on a limited budget, Jet used his network to recruit high-profile chef friends to venture to Kansas to present the workshop for only a nominal professional fee in four of the last seven years.