Friend of the College Award
2012 Recipient: Mary Vanier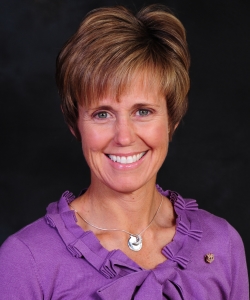 Mary Vanier, who graduated from K-State in 1989 with a degree in hotel and restaurant management, is president of Grand Mere Development Inc. Before returning to Manhattan in 1999, she worked at The Broadmoor Resort in Colorado Springs in special events, marketing and public relations.
In 2011 she received the North American Interfraternity Conference Foundation's Outstanding Philanthropist Award for her exceptional generosity and philanthropic leadership within the Greek community on a national and international level. She has established endowments and provided leadership for the Gamma Phi Beta International Society and the K-State chapter.
At K-State she has made significant gifts to the Center for Basic Cancer Research, Golf Course Management and Research Foundation and Kansas State Athletics. She donated land for Manhattan's first hospice, The Good Shepherd Hospice House.
Vanier currently serves on the board of Boys and Girls Club of Manhattan, Kansas State University Foundation and the Gamma Phi Beta Foundation. She is a founder of Manhattan Community Foundation and Flint Hills Area Panhellenic Association and has served on the boards of Kansas 4-H Foundation, Manhattan Area Chamber of Commerce, St. John's Military School and Mercy Health Foundation.