Friend of the College Award
2015 Recipient: W. A. Colin Noble
President and C.E.O. of Noble Hospitality Inc.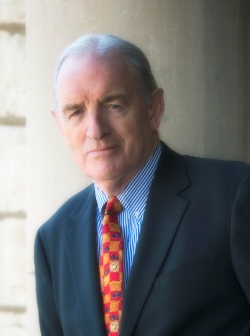 Colin Noble's friendship with the College of Human Ecology touches several programs and many students.
He helped establish the Noble-McCants Study Abroad Award for Northern Ireland. The funds enable students to participate in Peace and Conflict in Northern Ireland, a study in international conflict and trauma that examines the historical, political and religious roots of Northern Ireland's conflicts and the prospects for continued and sustainable peace.
He has served on the hospitality management program advisory board and helps fund an exchange program between hospitality management students at K-State and the University of Ulster, Northern Ireland.
In 1991, Noble created Noble Hospitality. Based in Kansas City, the company has owned or managed more than 125 hotels in 22 states throughout the United States and Canada. He has founded and operated businesses around the world as well as his native Northern Ireland.
Noble's charitable work includes Childreach International. He has completed many projects in Africa, including building two health clinics in isolated areas of Zambia, installing water pumps in remote villages, building schools and building a library for the hotel school in Zambia. His work was honored with the Humanitis Award. One of Noble's most recent project was to send a fire truck from Manhattan to Lusaka, Zambia.