Friend of the College Award
2019 Recipients:
IIDA Mid-America Chapter-Kansas City

The International Interior Design Association (IIDA) is the commercial interior design association with global reach.
IIDA was founded in 1994 as the result of a merger of the Institute of Business Designers (IBD), the International Society of Interior Designers (ISID), and the Council of Federal Interior Designers (CFID). IIDA supports design professionals, industry affiliates, educators, students, firms and their clients through a network of 15,000+ members across 58 countries, belonging to 35 chapters.
IIDA advocates for advancement in education, design excellence, legislation, leadership, accreditation and community outreach to increase the value and understanding of interior design as a profession that enhances business value and positively impacts the health and well-being of people's lives every day.
IIDA's Mid-America Chapter serves Kansas City, Wichita and the surrounding communities. Through meaningful and relevant programming, events, information and data, IIDA addresses the business needs of design professionals, firms and industry affiliates, while providing support and connection to educators and students. Annual student programming provided by the chapter includes Portfolios + Professionals, Senior Studio Critiques, Brand U, NCIDQ Exam prep courses and other various continuing education learning and networking opportunities. IIDA Mid-America was named a 2019 Gold Chapter by IIDA headquarters and is a recipient of a 'Best Thing Ever' award for their inaugural Brand U event in 2018.
Dr. Jarrod Nichols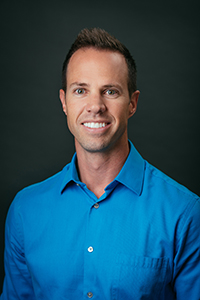 Dr. Jarrod Nichols is a husband, father, chiropractic physician, entrepreneur and innovator. Following his kinesiology education at Kansas State University, he received his doctorate from Palmer College of Chiropractic, graduating magna cum laude in 2004.
Nichols opened Nichols Chiropractic, PA in 2005 with the vision of becoming a leading alternative healthcare option for the Manhattan community by offering diverse, individualized chiropractic care. Since then, Nichols Chiropractic has grown into a five-doctor clinic with three full-time and three part-time staff members, providing a wide array of chiropractic and rehabilitation, as well as functional medicine services.
In 2006, he established Nichols Therapy Systems, LLC, an enterprise created to research, design and develop state-of-the-art therapy technologies and protocols to assist the modern physical medicine specialist in treatment and prevention of common postural conditions, most notably cervical curve loss and forward head posture. The patented iTrac® is Nichols Therapy Systems' flagship project and is the only computerized system currently available delivering gentle, effective spine remodeling therapy to the cervical spine for the purpose of restoring the cervical lordosis and correcting forward head posture. In 2017, after successfully acquiring FDA 510(k) clearance for the iTrac® device, Nichols established Spine Remodeling Systems, LLC, an enterprise created to market and distribute the iTrac® product to his healthcare colleagues. He currently advises clinicians worldwide on how to successfully integrate iTrac® Spine Remodeling into their clinical protocols.
Nichols has been married to his wife, Shawn, for 16 years and enjoys raising three energetic boys — Mason(6), Sutton(4) and Lincoln(2).