Public Advocacy Award
2012 Recipient: Shawn Sullivan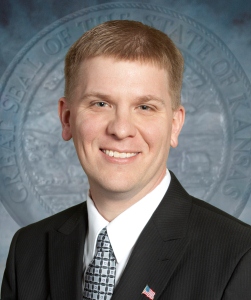 As Secretary for the Kansas Department for Aging and Disability Services, Shawn Sullivan heads a $1.67 billion dollar state agency responsible for promoting the security, dignity and independence of older adults and persons with disabilities.
The department is the state's second largest cabinet level agency, employing 2,650 people. It oversees and administers Kansas Older American's Act programs, behavioral health programs, home and community based services (HCBS) for older adults and persons with disabilities, management and oversight of five state hospitals, survey and certification for adult care homes, and the distribution of Medicaid long-term care payments. Sullivan played an integral part in the development of KanCare, the Medicaid reform plan that will be implemented in January 2013.
Sullivan was an award-winning administrator and executive director of four different aging service providers, helping lead the way for transforming senior-living communities from traditional institutions to residential homes where elders make decisions about their own lives.
He holds a bachelor's degree in management and secondary major in gerontology from Kansas State University and a master's degree in gerontology from the University of North Texas.