Public Advocacy Award
2019 Recipients:
The Crisis Center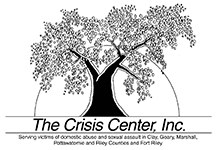 The Crisis Center was formed in 1979 after concerned citizens realized that sexual assault and domestic violence were pervasive in our community and that victims' needs were not being met by existing services. The Crisis Center was incorporated in 1981 to provide free, confidential services to sexual assault and domestic violence victims residing in Clay, Geary, Marshall, Pottawatomie and Riley Counties, including Ft. Riley. The Crisis Center provides 24-hour toll-free crisis hotlines, 24-hour face-to-face crisis intervention, supportive counseling, support groups (both for adult victims and for children who witness domestic violence), advocacy (including civil-and criminal court advocacy), case management and safe shelter (for victims and their dependent children).
The center provides volunteer opportunities for K-State students. Each year, 25-40 K-State student volunteer, with a large number coming from the School of Family Studies and Human Services. The Couple and Family Therapy program also provides master's students who lead weekly support groups and are able to gain hands-on experience in their desired career field.
Vickie James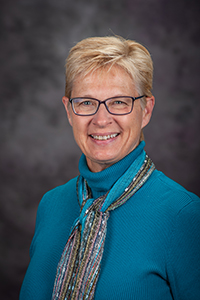 Vickie James is a healthy eating/active living consultant with her own private practice, C.H.A.N.G.E.4Good. She is a nationally recognized facilitator in the field of school wellness and child nutrition and has worked with hundreds of schools and community youth programs across the country. James is the creator and was national director of Healthy Kids Challenge (HKC), an award-winning national nonprofit with a school-and community-based approach for children's health. HKC was created in 1998 for Cooking Light magazine and ran for almost 20 years. Today, states still implement the HKC curriculum in their schools' food service programs.
Following her time with HKC, James and her husband relocated to Manhattan, Kansas, where she has established an appointed Food and Farm Council of Riley County and the City of Manhattan. The council serves as advisors to both the city and county commissioners, as well as providing leadership and support for bringing partners together to improve community issues such as food insecurity, food recovery, nutrition education and access to local healthy foods.
Outside her city and county work, James volunteers her time serving her alma mater, Kansas State University, where she earned her degree in dietetics. She has served on both the university and college alumni boards and has developed two courses for the dietetics degree program. Her passion remains mentoring K-State dietetics students and the dietetics program. She also loves the arts and is currently serving on the McCain Board of Directors. Free time finds her out on one of the local walking trails, at a K-State ballgame or in Kansas City playing with her six grandchildren.