Rising Professional Award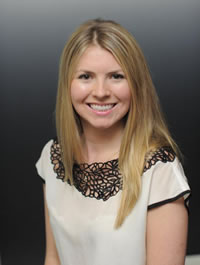 Courtney Lair, a third-generation K-State graduate, earned her bachelor's degree in apparel marketing and minor in business administration in 2006. While at K-State, Lair started a fashion column for the Kansas State Collegian and studied abroad in London, where she also interned at a fashion showroom. Following graduation, she moved to New York City to pursue a career in the fashion industry.
She was hired as an assistant merchandise manager for Saks Fifth Avenue's growing online business, where she was responsible for product placement, editorial assortments and the execution of online promotions. After nearly two years at Saks.com, she was offered a position in buying as a merchant assistant in women's shoes, the highest volume division at Bloomingdales.com. After one year, she was promoted to assistant buyer and was a member of the Best Merchant Team for both fall 2009 and spring 2010. In August 2010 she was promoted to her current role of associate buyer in women's ready-to-wear, where she buys brands including Calvin Klein, DKNY, Michael Kors and has full buying responsibility for Lauren by Ralph Lauren.
Aside from her professional life, Lair is a member of the New York Junior League, where she is involved in fundraising and event planning. She is also involved in the Tri Delta New York Alumni Chapter, where she helped co-chair the annual St. Jude fundraiser. She is an active mentor for Sponsors for Educational Opportunity and has helped six high school seniors from underprivileged inner-city schools receive scholarships and admission to competitive colleges. She also mentors fifth grade students through Bloomingdale's Mentor America program.
Lair helps K-State students and young graduates with career guidance. She is honored to be receiving this award and is inspired to continue to give back to the College of Human Ecology.