Rising Professional Award
2012 Recipient: Josh Umbehr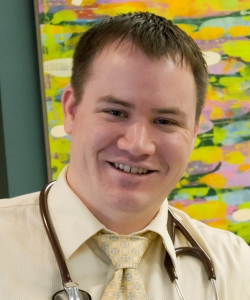 Josh Umbehr, a board-certified family physician, graduated from K-State with a degree in human nutrition in 2003. Today he owns Atlas MD Concierge Family Practice in Wichita.
At K-State he minored in biology and conducted research on the effects of vitamin A on lung cancer. After graduation from the University of Kansas School of Medicine, Umbehr completed his internship and residency with Welsey Family Medicine in Wichita. He served as an emergency room physician in Dodge City, Independence, McPherson, Andover and Fort Scott.
He is involved with the Wichita Down Syndrome Society and is a board member of Rainbows United, a developmental training center for children with special needs.
Concierge medicine, also called direct care, is a growing practice among physicians. It emphasizes the relationship between the physician and the patient who pays an annual fee or retainer.
The award honors significant contributions in the field of Human Ecology by a graduate in the early stages of a career.
He grew up in Alma, Kansas.