Master of Science in Athletic Training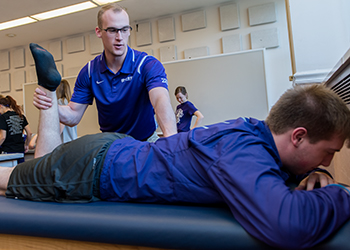 Kansas State University athletic training program leads to a Master of Science in Athletic Training degree (MSAT). Students can enter the MSAT two ways: (1) through the Five-Year Master's degree plan or (2) through the post-baccalaureate degree plan. It is a competitive admissions process and 25 students will be accepted into the program each year.
The MSAT professional degree program is a 24 month program, continuous through 6-semesters. The first four semesters or 15 months will be delivered mostly from the Manhattan campus with final 2 semesters being an immersive clinical experience.
The MSAT is a program within the College of Health and Human Sciences, and the Department of Food, Nutrition, Dietetics and Health. Following a decision from the National Athletic Trainers' Association's Athletic Training Strategic Alliance, a master's degree will be required to become eligible for certification as an Athletic Trainer starting in 2022.
About the Program
Application Information
Program Cost Information
Policies and Information