Alumni profile:
BJ Lehecka, DPT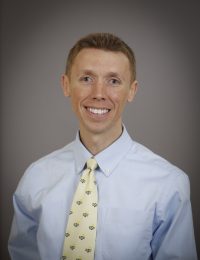 BJ Lehecka, DPT, is an assistant professor in the College of Health Professions and Physical Therapy at Wichita State University in Wichita, Kansas. At WSU, Lehecka teaches coursework concerning the hip and spine regions, posture, gait, proprioceptive neuromuscular facilitation, musculoskeletal evaluation and the treatment of musculoskeletal pathology. In 2016, he was awarded the WSU Rodenberg Award for Excellence in Teaching due to his outstanding work in the classroom with students.
Outside of the classroom, Lehecka's fascination with the workings of the hip and the spine has focused his research on the gluteal muscles – which are integral to hip and spine function. To date, he has published multiple journal articles, presented at state and international symposiums, authored book chapters, and actively participated in continuing education lecture engagements and conferences. In his spare time, Lehecka serves as a physical therapist and director of Wichita Running and is a PhD candidate at Rocky Mountain University of Health Professions in Orthopedic and Sports Science.
Lehecka earned his bachelor's degree in kinesiology from K-State in 2006. While here, he was highly involved in the Kinesiology Student Association and many other student organizations. One of Lehecka's most rewarding experiences at K-State was time spent on the Cadaver Dissection Team within Professor Townsend's Human Body course. Following graduation, he earned a doctorate in physical therapy from Wichita State University, 2009, and received the Susan Tork Distinguished Student Award, as voted by his peers. Lehecka worked as a physical therapist with the Via Christi organization prior to his current position with WSU.
The Susan Tork Distinguished Student Award from WSU recognized Lehecka as a dedicated practitioner, compassionate by nature and with sights on continual learning and educational growth. He confirmed this again in 2014, as he served as the physical therapy faculty leader on WSU's DPT program's inaugural medical mission trip to Haiti. Travelling with two doctoral students, an orthopedic surgeon and a surgical nurse, the team treated local patients, delivered assistive devices to community members and clinics, educated nursing school students on physical therapy patient care skills and paved the way for future students to help communities in Haiti. Students and clinicians have visited each year and Haiti is now building its first physical therapy school.