Derek Sensenig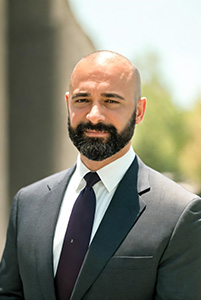 Professor of Practice
Master's Program Director
Contact Information
Courses I Teach
PFP 300 - Problems in Personal Financial Planning
PFP 760 - Retirement Planning for Families
PFP 770 - Applied Behavioral Finance
PFP 860 - Advanced Retirement Planning Issues
PFP 863 - Advanced Personal Income Tax Planning
PFP 864 - Advanced Estate Planning Issues
PFP 888 - Research Methods in Personal Financial Planning I
PFP 889 - Theories and Models in Personal Financial Planning
PFP 900 - Research Seminar
Education
Ph.D. in Personal Financial Planning, Kansas State University
M.S. in Personal Financial Planning, Kansas State University
M.B.A. with an emphasis in Business Finance, Webster University
B.S in Human Resource Management/Personnel Adminstration, Park University
Credentials and/or Certifications
CERTIFIED FINANCIAL PLANNER™
Chartered Life Underwriter®
Chartered Financial Consultant®
Retirement Income Certified Professional®
Professional Biography
Prior to entering the financial services industry, Dr. Sensenig was a Technical Sergeant in the United States Air Force and served as a Military Training Instructor at Joint Base San Antonio (Lackland AFB) with the 321st Training Squadron. He was also stationed in Alaska, Kuwait, and Korea.
Dr. Sensenig has a Bachelor's Degree in Business Management/Human Resources from Park University, a Master's Degree in Business Administration from Webster University, and a Master's Degree and Ph.D. in Personal Financial Planning from Kansas State University where his dissertation was an intense focus on retirement.
He is also the Senior Vice President of Financial Planning for an independent RIA firm in Houston, Texas. Dr. Sensenig also serves on the journal review committee for the Financial Planning Review and the Journal of Financial Planning. His research interests are focused on retirement planning, credit card spending, financial socialization, the impact of social media on financial decisions, and virtual financial planning.
Dr. Sensenig has been featured in NerdWallet and FPA Next Generation Planner and was the recipient of the 2022 Outstanding Graduate Student Research Award.