Briana Nelson Goff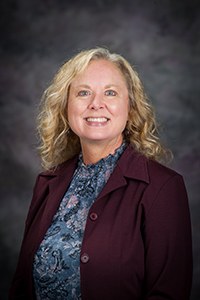 Professor
Contact Information
308 Justin Hall
785-340-3835
bnelson@k-state.edu
Education
Ph.D. in Marriage and Family Therapy, Texas Tech University (1998)
M.S. in Marriage and Family Therapy, Kansas State University (1993)
B.S. in Psychology and Life Sciences, Kansas State University (1991)
Credentials and/or Certifications
Licensed Clinical Marriage and Family Therapist (LCMFT)
Area(s) of Specialization
Post-traumatic stress disorder and secondary traumatic stress in partners
The effects of trauma and traumatic stress on couple functioning
Parenting children with Down syndrome
Courses Taught
CNRES 529 Understanding Trauma and Traumatic Stress
CNRES 530 Coping with Life Crises
CNRES 533 Prevention and Intervention of Violence
CNRES 750 Crisis Across the Lifespan
CNRES 753 Violence Prevention and Intervention
CNRES 759 Foundations of Trauma and Traumatic Stress
Professional Biography
Briana S. Nelson Goff, Ph.D, is a professor in the Department of Applied Human Sciences. Dr. Nelson Goff's clinical experience and research specialization is with primary and secondary traumatic stress symptoms in trauma survivor couples, families and children, with a specific focus on military- and disaster-related traumatic events. Her work has expanded to international trauma, as she has worked in Bosnia-Herzegovina as part of a team through National Research Council grants to work with survivors of the war in Bosnia, particularly children without parental care, from 2000-2003.
One of the most unique aspects of her work at K-State is the development of the Trauma Research, Education and Consultation at K-State (TRECK) Team. This program includes graduate and undergraduate students, and over 150 students have been involved in the TRECK Team research and projects since it began in 1998. Members of the team have conducted research on trauma in couples; submitted and published professional journal articles; presented workshops at state, national and international conferences; provided workshops and education for non-professionals and community members throughout Kansas; and provided clinical therapy services for trauma survivors and their family members. Since 2004, Dr. Nelson Goff and the TRECK Team have focused their research on soldiers/veterans who have served in Operation Iraqi Freedom (Iraq) and Operation Enduring Freedom (Afghanistan) and their partners to understand the individual and systemic effects of war deployments and trauma in couples. From 2009 to 2017, she served as the director of the Institute for the Health and Security of Military Families in the School of Family Studies and Human Services, where she was in charge of developing collaborative educational, outreach and clinical services programs for military families in the state. Dr. Goff has received the following recognition and awards: U.S. Department of the Army Outstanding Civilian Service Award (2014), Fort Riley Distinguished Trooper Award (2015), Kansas State University Excellence in Engagement Award (2015), Department of the Army Chief of Staff Outstanding Civilian Service Award (2016), and Kansas State University Distinguished Faculty Award for Mentoring of Undergraduate Students in Research (2019). Dr. Goff is currently completing her book, In Love and War: Stories of Couples Navigating Military Deployments and Life's Battles (New Degree Press, January 2023).
Since 2010, Dr. Nelson Goff and a colleague at Texas Tech University have conducted research, workshops and educational programs at their universities, collaborating on a national research study on the positive aspects of having a child with Down syndrome titled, "My Kid Has More Chromosomes than Yours!: The Journey to Hope and Resilience in Parenting a Child with Down Syndrome." They have worked together on this national study on parenting children with Down syndrome, which is both a personal and professional endeavor. This research has resulted in numerous publications, including the book, Intellectual and Developmental Disabilities: A Roadmap for Families and Professionals (2018).
Personal Information
Dr. Nelson Goff is a fourth-generation K-Stater. She and her family live outside of Wamego, Kansas, where her husband, Craig, is the general manager at KanEquip, a farm implement dealership. They have two children, Dalton and Gracyn, who take up much of her spare time.