Glade Topham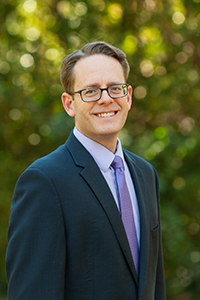 Professor
Program Director of MFT
Contact Information
101 Campus Creek Complex
785-532-6245
gtopham@k-state.edu
Education
Ph.D. in Marriage and Family Therapy, Texas Tech University
M.S. in Marriage and Family Therapy, Brigham Young University
B.S. in Family Sciences
Credentials and/or Certifications
American Association for Marriage and Family Therapy (AAMFT) Approved Supervisor
Licensed Clinical Marriage and Family Therapist
Area(s) of Specialization
Parent-child Relationships and Healthy Child Weight Balance
Parent-child Relationships and Healthy Child Socioemotional Outcomes
Efficacy/Effectiveness of Early Parent-Child Intervention
Research, Scholarship and Creative Endeavors
Dr. Topham's research interests are focused on parent-child-relationship predictors of child physical and socio-emotional health, and in identifying the most effective/efficacious approaches to early parent-child treatment for vulnerable populations. Much of his recent work has focused on the influence of general parenting on child healthy weight balance and on the efficacy of a transdisciplinary child obesity prevention program. Topham is a member of a transdisciplinary team conducting a longitudinal study of the predictors of healthy physical and psychosocial outcomes for 1200 children in rural communities. The team began collecting data during children's 1st grade year and recently completed a wave of data collection in 2017 and 2018 during participating children's senior year of high school. Undergraduate, master's and doctoral students have played key roles in this research on all levels including project design, data collection, and publication. Topham is also a member of a USDA multistate research team examining the parental practices supporting positive eating behaviors during independent eating occasions among early adolescent children.
Courses Taught
HDFS 670 Working with Parents
CFT 864 Clinical Theory and Practice
CFT 879 Systemic Assessment and Treatment of Psychopathology
FSHS 824 Parent-Child Interaction
CFT 886 Clinical Intervention with Parents and Children
CFT 885 Practicum in CFT
CFT 896 Advanced Family Therapy
CFT 970 Clinical Specialization
CFT 985 Doctoral Practicum in CFT
CFT 996 Practicum in CFT Supervision
Professional Biography
Dr. Glade Topham is an Associate Professor and Program Director of the Couple and Family Therapy program at Kansas State University, joining the KSU program in 2016. Prior to joining the K-State program Topham was a faculty member of the marriage and family therapy program at Oklahoma State University where he worked for 13 years, nine as Program Director. Topham teaches courses in and serves on committees in both the master's and doctoral programs. Topham serves on the editorial board of Family Relations and is a Site Visit Team Chair for the Commission on Accreditation for Marriage and Family Therapy Education (COAMFTE). He is a member of the American Association for Marriage and Family Therapy (AAMFT) and the National Council on Family Relations (NCFR).
Personal Information
Topham grew up in Orem, Utah. He and his wife Becky are the proud parents of six children. The Topham family has a love for music and the family includes several musicians; including three violinists, two cellists, and five who are at varying stages of learning to play the piano. In addition to making music, favorite family activities include playing outdoor sports and all manner of card and board games.