Alumni Fellows Award
2013 Recipient: Elizabeth Purcell-Keith
Video Presentation: Dr. E on call for families in their worst of times
Video Interview: Dr. Elizabeth Purcell-Keith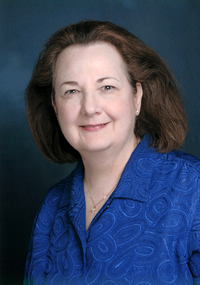 2013 Alumni Fellow, Elizabeth Purcell-Keith, PhD, RN, LMFT, is a Family Medical Therapist for Dallas Medical City Children's Hospital in Dallas, Texas. Dr. Purcell-Keith, holds a bachelor's degree and master's degree in family and child development and earned her doctorate in marriage and family therapy all from Kansas State University. She has been involved in the care of families and sick children in the context of their family systems since the 1970s, when she began her career as a staff nurse in the newborn nursery and labor and delivery.
Dr. Purcell-Keith has been a key member of the Clinical Staff at Medical City Children's Hospital and Medical City for almost 30 years, and has served on the hospital ethics committee and lectured extensively on end of life issues, stress management, caring for the caregiver and families in crisis.
"Dr. Elizabeth," as she is known by patients and colleagues, is the recipient of the George Washington Honor Medal from the Freedoms Foundation at Valley Forge, acknowledging her work helping families of extremely sick children. Previous recipients of the prestigious award include Walt Disney, Sen. John Glenn and U.S. Supreme Court Chief Justices Warren Burger and William Rehnquist. She is a clinical member of the American Association for Marriage and Family Therapy. Dr. Purcell-Keith and her husband of 33 years, Jedd, have two children.