Alumni Fellows Award
2016 Recipient: Jo Kimbell
Video Presentation: High Flying Design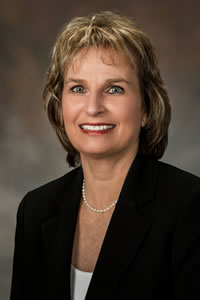 Jo Kimbell, graduated from Kansas State ('73) with a degree in Interior Design. Jo Kimbell's remarkable 35‑year career in aircraft interior design has required knowledge of aesthetics, industrial design for manufacturing, structural engineering and Federal Aviation Regulations. She has designed interiors for nine different types of aircraft since 1981, including multiple special and anniversary edition aircraft.
Hallmarks of her career are her customer-centered approach to design, which led to her creation of the first on-site aircraft design centers at the conventions and exhibitions for both the National Business Aviation Association and the European Business Aviation Association. Her expertise in aircraft design for elite clientele has spanned sectors like NASCAR, Hollywood, sports, music and fractional aircraft companies around the world.
A proud Kansas State University alumna, she has served on the Interior Design Professional Advisory Board since 2009. She is very proud of her KSU heritage. Both parents, aunts, uncles, sister, cousins, husband and children attended and graduated from KSU. "From a very young age, I knew I would major in interior design at K-State," she said. "Mission accomplished!"
April 6 - 8, 2016, Ms. Kimbell will be visiting the College of Human Ecology, participating in several interior design classes and giving a general presentation Thursday, April 7 at 1:00 p.m. in 163, Justin Hall. This presentation is free and open to the public.