Alumni Fellows Award
2018 Recipient: Lawrence Ganong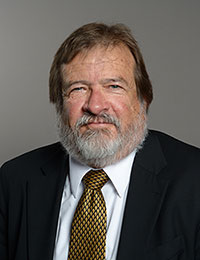 Lawrence H. Ganong, Ph.D., is a Professor and Co-Chair of Human Development and Family Science and Professor of Nursing at the University of Missouri in Columbia. He has co-authored over 280 journal articles and book chapters, 10 full books, and has received 12 grants from federal institutes and private foundations.
Ganong's primary research program has focused on how post-divorce family members, especially in stepfamilies, develop and maintain satisfying and effective relationships. Ganong has spoken about stepfamilies in several countries around the world. He is a Fellow in the National Council on Family Relations and the Gerontological Society of America. Ganong has served on the Board of Directors of the National Council on Family Relations, the Council on Contemporary Families, and The Stepfamily Association of America.
His primary research collaborator has been his wife and best friend, Dr. Marilyn Coleman, a KSU alumna. He has two stepsons and five grandchildren. Ganong received his Master's degree in Family and Child Development from K-State in 1974.