Alumni Fellows Award
2019 Recipient: Cheryl Johnson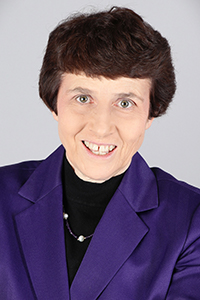 Cheryl Johnson is Director of Child Nutrition & Wellness for the Kansas State Department of Education. Cheryl and her team administer the USDA Child Nutrition Programs in Kansas and provide leadership, training and monitoring for 800+ local sponsors who provided 102 million meals and snacks to Kansas children in 2018. They strive to make nutrition and wellness an integral part of student success.
Earlier in her career, Cheryl worked as Director of Nutrition Services at the Kansas Neurological Institute, a Consultant Dietitian and a Washburn University Adjunct Instructor.
Cheryl has a B.S. in Foods and Nutrition and a M.S. in Dietetics and Institutional Management from KSU. She is a Registered and Licensed Dietitian and a Kansas Health Foundation Leadership Fellow. She has served on the School Nutrition Association's Governance Board, Governor's Council on Fitness, USDA Professional Standards Work Group and the KSU Human Ecology Alumni Board and Dietetics Advisory Board.
Cheryl is married to Kirk Johnson and has three adult sons- Kyle (Bethany), Craig and Mark(Emilie) and one grandson-Luke.