Alumni Fellows Award
2023 Recipient: Marc Shaffer '05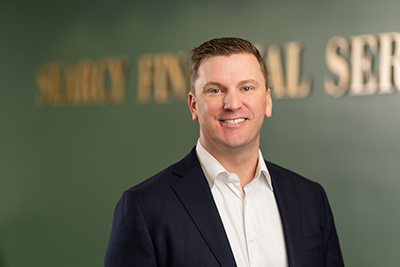 Marc Shaffer, Overland Park, Kansas, has built his life to enjoy and promote things he loves – family, travel, adventure and service. He is a co-owner and serves as the CFO of Searcy Financial Services Inc. and Allos Investment Advisors LLC. Marc joined Searcy Financial in 2006 and was promoted to partner in 2010, the same year he became a co-owner of the firm.
As a fee-only financial advisor, Marc specializes in helping clients and their families achieve continuity in their financial planning through generations and achieve their vision of an ideal life by encouraging goal setting and active monitoring of their financial plans.
Rotary, the Growing Futures Early Education Center Board and other organizations keep him busy in the community. He has been recognized locally and nationally for his contributions to others and his profession.
Shaffer was awarded a K-State Entrepreneur Award, was a College of Human Ecology (now the College of Health and Human Sciences) commencement ceremony speaker, and has served on the Human Ecology (Health and Human Sciences) Alumni Advisory Board, the Personal Financial Planning Advisory Board and the Kansas City K-State Alumni Club Committee. He currently serves on the Wabash CannonBall Kansas City Steering Committee as the Sponsorship Chair.
He and his wife, Bridgette, have one son, Grant.
Shaffer earned his Bachelor of Science in personal financial planning with minors in business administration and economics in 2005.
As an active international traveler, he has visited 17 countries, and already has his eye on future destinations.